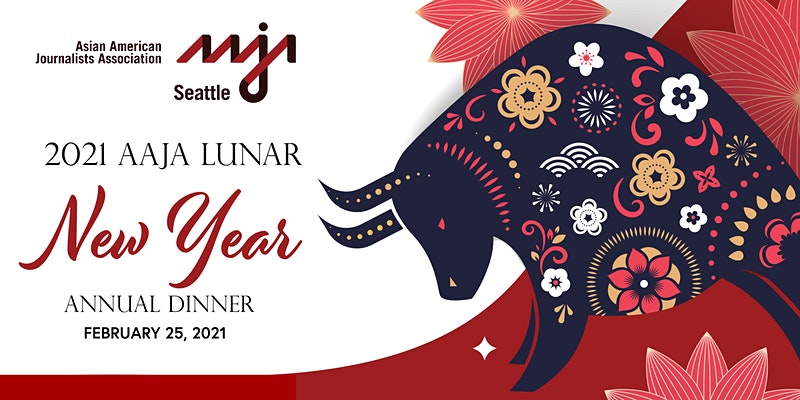 Date
Feb 25 2021
Expired!
Time
6:00 pm - 6:00 pm
Cost
Free
AAJA Seattle Lunar New Year 2021
AAJA Seattle's annual Lunar New Year dinner is a family friendly event to eat, connect, and raise money for our scholarship programs that pay for professional development and training for journalists of color. This online event will feature a raffle drawing, music and a speaker, more details to come.
Your event plus meal ticket buys you a pre-set boxed dinner from Seattle's Mi La Cay or Bellevue's Terry's Kitchen. You will be able to pick up your meal the day of the event. Details to come.
Seattle-area Asian-American owned restaurants have struggled during the pandemic, and Mi La Cay and Terry's Kitchen are no exception.
About Mi La Cay
Mi La Cay has been a part of Seattle since 1992, and has already had to relocate once due to gentrification. The pandemic has decimated their business, and the owners have been doing their best to stay afloat.
About Terry's Kitchen
Friends of Terry's Kitchen launched a GoFundMe in December to help keep the Asian-American business going during these challenging times.
If the price of a ticket is a financial hardship for you, email the AAJA Seattle board at aajaseattle@gmail.com.
HOW YOU CAN HELP
Due to the pandemic, AAJA Seattle had to cancel its largest 2020 fundraiser, Chef's Showcase. The Lunar New Year dinner will help to make up the gap. The need is great right now. It's never been more important to have diversity in local media. From Covid to the racial justice uprisings, Asian American journalists are telling critical stories that would otherwise not be told.
These funds will help:
– Fund scholarships for local journalists of color to build the next generation
– Support programming that advances equity and inclusion in local news coverage
– Support journalists of color and keep much-needed POC voices in news and communications
– Support members who are struggling due to Covid through emergency grants
Our fundraising goal is $3,000 – thank you for helping us get there!
Excited to see you all there!
ABOUT AAJA
Founded in 1981, the Asian American Journalists Association (AAJA) is a non-profit professional and educational organization with more than 1,600 members.
Since 1985, Seattle's AAJA chapter has provided scholarships for students, professional development for journalists and service to the community in the Pacific Northwest.
AAJA is a non-profit organization with 501(c)(3) status. Donations are tax-deductible.
SPONSOR
Thank you to our event sponsor, Intentionalist, an online guide to intentional spending that supports small businesses and diverse local communities by making it easier to find and support businesses owned by women, people of color, veterans, members of the LGBTQIA+ community, families and people with disabilities.