Run with Team AAJA at the TCS New York City Marathon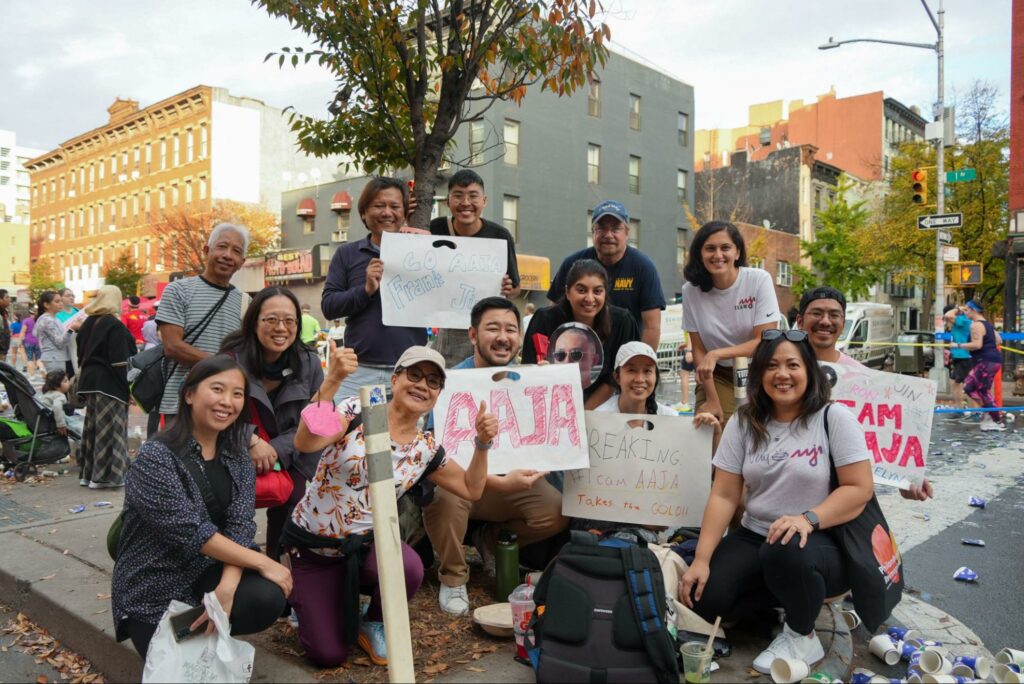 Team AAJA Cheer Squad at the TCS New York City Marathon in 2022
We are delighted to announce that the Asian American Journalists Association is an Official Charity Partner of the world renowned TCS New York City Marathon in 2023. As part of being a charity partner, we are accepting applications for guaranteed entry into the marathon to run on Team AAJA. As a member of Team AAJA, you will be supporting AAJA's mission of advancing diversity in newsrooms and ensuring fair and accurate coverage of communities of color.
Apply to run on Team AAJA using the form below. For questions, please email svp@aaja.org. And whether or not you're running on Team AAJA this fall, we'll have plenty of other ways for you to show your support of our runners throughout the year leading up to race day.
Why Join Team AAJA?
Running on Team AAJA is to support our organization's mission of advancing diversity in newsrooms and ensuring fair and accurate coverage of communities of color. Since 1981, AAJA has been at the forefront of change in the journalism industry, working towards the visibility and inclusion of AAPI journalists in newsroom leadership, and towards equitable and accurate coverage of Asian Americans and Pacific Islanders (AAPIs) and AAPI issues.
Who Should Apply For Team AAJA?
Anyone who supports our mission and has a dream to run the TCS New York City Marathon this November. We will review applications with preference going to AAJA members, but we do welcome applications from non-AAJA members as well.
What Will Fundraising Go Towards?
Team AAJA's fundraising efforts will go directly towards advancing our mission, through the creation of programs, scholarships, events and other resources for our members and our communities at-large. In 2022, Team AAJA raised $40,000 to support members and initiatives in five AAJA chapters: Hawaii, Minnesota, New York, Washington D.C. and Los Angeles.
What Can You Expect On Team AAJA?
We are a small team with only a few entries for the race, and we do our best to support each runner on Team AAJA. You can expect an approachable team environment where we will work together to train and fundraise ahead of the big race. There will also be opportunities to engage with the greater AAJA community, both locally and nationally.
What Is The Fundraising Goal For Each Runner?
The fundraising goal for each runner on Team AAJA is $5,000. We will start our fundraising in the Spring and will go up until race day.
When Is The New York City Marathon?
The 52nd annual New York City Marathon will start the morning of Nov. 5, 2023 in Staten Island before routing through the remaining boroughs with a roaring and picturesque finish in Manhattan's Central Park.
When Do I Need To Submit My Application?
Applications will be reviewed and accepted on a rolling basis until March 29, 2023 at 11:59pm ET or until the team is filled. If the form below is active, we are still accepting applications. Once the team is filled, there will be an opportunity to be added onto a waitlist.