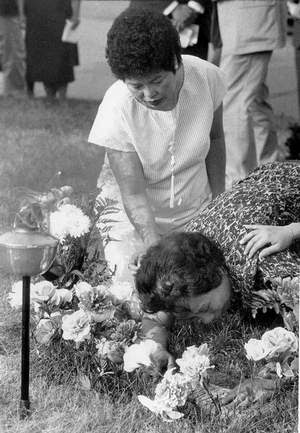 Picture: Lily Chin buries her son on her 62nd birthday.
This scholarship awards $1,500 to a student journalist for an insightful essay related to Vincent Chin's life, death and legacy. Other selection criteria includes academic and journalistic achievement, financial need, commitment to journalism and a sensitivity to AAPI issues.
Click here for a full list of eligibility rules, application requirements and the application.

About the Vincent Chin Memorial Scholarship
The brutal attack that killed Vincent Chin occurred late at night with few people around, but its reverberations spread across the country and have lasted for decades. Asian Americans came together to demand justice and found a common voice and purpose. Yet questions remain and justice goes undelivered.
This scholarship honors the legacy of Chin thanks to the generosity of Joe Grimm, a former newsroom recruiter and staff development editor for the Detroit Free Press.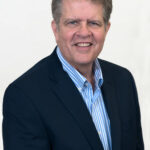 Embarrassed and shamed by the killing of Vincent Chin, Joe's friendship with AAJA helped him decide to elevate a story he wanted to hide. Journalism teaches that it is only through learning, even when it is painful, that we can become better, more purposeful people.  
Questions? Email support@aaja.org.
Scholarship Recipients and Press By Year

Meet Abigail Lee and celebrate past recipients, donate to our scholarship fund As the Asian American Journalists Association (AAJA) reflects on the 40th anniversary of
Read More »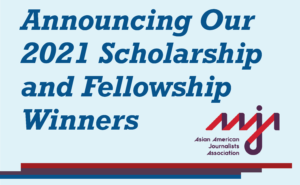 The Asian American Journalists Association is proud to announce the 2021 scholarship and internship winners. After careful consideration, winners were selected from a pool
Read More »
Discover other opportunities here.
Support our future AAPI journalists.