Check out our calendar to find upcoming virtual events and those in your area, hosted by AAJA HQ, programs, chapters, affinity groups, and task forces.
In addition to our signature programming and initiatives, the Asian American Journalists Association holds webinars and workshops for AAPI journalists' professional development. These include member-only events and trainings, as opportunities arise. Learn more about dates and information for all upcoming programs and events available for the #AAJAFamily.
Details about #AAJA22 are available at www.aaja22.org. More information on #AAJA23, set for July 19-22, 2023 at the Capital Hilton in Washington, DC, is forthcoming.
Are you an AAJA chapter or affinity group leader who wishes to post an upcoming event? Please contact yi-shenl@aaja.org.
RECENT AAJA-HQ EVENT: SciLine workshop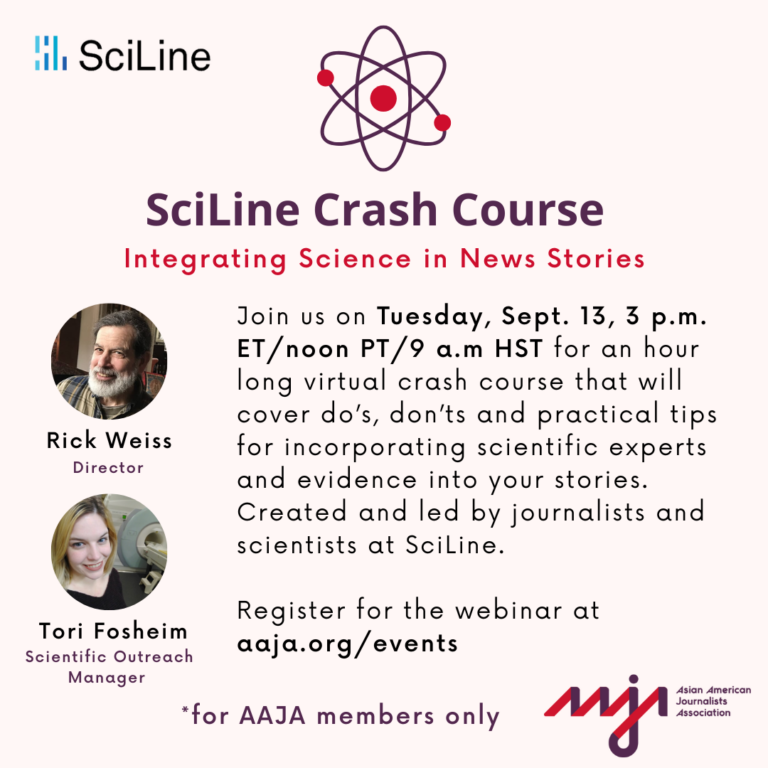 WHO: Rick Weiss, Director, and Tori Fosheim, Scientific Outreach Manager
WHAT: SciLine Crash Course for AAJA Members: Integrating science into news stories
WHEN: Tuesday, Sept. 13, 3 p.m. ET/Noon PT/9 a.m. HST
HOW: You must be a member of AAJA and REGISTER to attend the Zoom Webinar.   
REGISTRATION IS FREE AND OPEN TO ALL AAJA PRINT, RADIO, AND TV REPORTERS.
DESCRIPTION: A dose of science can add substance to almost any news story. But many journalists lack the tools or confidence to include it in their reporting. SciLine is offering a free, one-hour, virtual Crash Course just for AAJA members that will cover do's, don'ts and practical tips for incorporating scientific experts and evidence into your stories. Created and led by journalists and scientists at SciLine—the free service for journalists based at the nonprofit American Association for the Advancement of Science—this "Crash Course" will cover how to:
avoid common pitfalls when reporting on scientific findings, such as overstating results or their applications for people;

identify different types of scientific studies and understand the strengths and limitations of each;

scan a scientific study to extract the most critical information and craft relevant interview questions; and

find and interview scientist-sources who can speak authoritatively on a specific topic.
This is a great opportunity for AAJA members to quickly get steeped in the practical essentials of handling science in your stories, and to ask questions of a couple of pros.
News on AAJA Events and trainings

Join the Convention Planning Committee, pitch speakers, programs AAJA Family, we can't wait to see you all back in the nation's capital this summer! As our planning ramps up, we
Read More »