JCal: Connecting California students with journalism, newsrooms and their communities
JCal is an all-inclusive, free journalism program that immerses California high school students into the state's news ecosystem. Students build connections with the journalists covering their communities, learn about the inner workings of newsrooms and gain many of the skills needed to succeed in professional and academic realms. Most importantly, they return home equipped with the knowledge and tools to tell the stories of their communities. Each cohort is carefully selected to reflect the diversity of California residents and serve communities that newsrooms may be overlooking.
For its inaugural year, JCal leaders will select about 25 students who will spend 6 days together in Sacramento. Based in the CalMatters newsroom, the students will learn from journalism and civics professionals from all over California. Students will also produce reporting projects focused on Water and Drought, which will be ready to publish locally.
This innovative program is produced through a unique partnership between the Asian American Journalists Association and CalMatters.
Program Dates: June 20 to June 24, 2023

The application for the 2023 cycle has closed. Please check back next year to apply and stay tuned for our cohort announcement!
High school aged students in California with a strong interest in journalism are encouraged to apply. Proof of vaccination is required to attend the program. 
Students selected for the program have all costs covered including travel, housing and meals.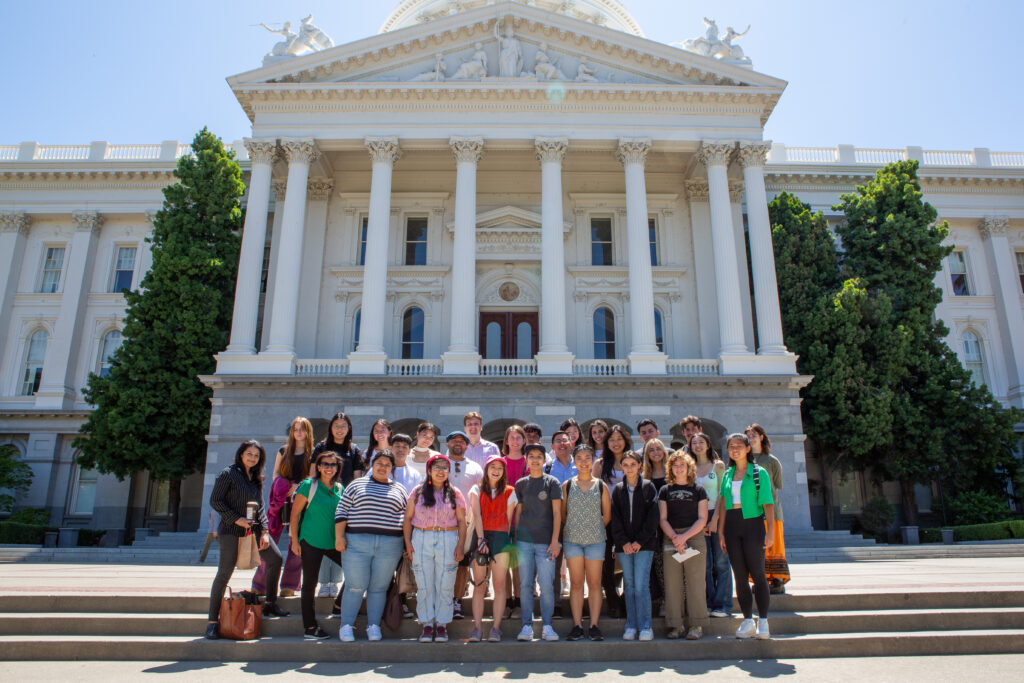 JCal students visit the state Capitol in Sacramento on June 21, 2023. Photo by Semantha Norris, CalMatters
MORE ABOUT THIS YEAR'S THEME
This year's JCal theme is Water and Drought.
Our workshops will teach valuable journalism skills with hands-on experience. Students will report and produce stories centered on California's water issues and drought.
Drought has largely defined California's major issues for decades. Last year was the second driest on record. Key river and lake reservoirs have dipped to record lows, and 50 out of 58 counties have been under emergency drought proclamations. Lack of rain enables unforgiving fire seasons.
Most of the state's water comes from the north, while most of the residents, and most of the water usage, are in the south. A million Californians live without access to safe drinking water. Agricultural communities have to shift crops and growing methods. Oceans and rivers are forever transformed. Urban residents rip out lawns and entrepreneurs rethink their businesses. Farmers, environmentalists, tribes, legislators and regulators wrestle with the effects and argue for solutions.
This workshop will enable important storytelling that informs communities and encourages young journalists to reimagine their state's future. Campers will attend workshops online before JCal and do some initial reporting on water issues in their local communities. Part of the workshop will be devoted to completing the stories with the help of mentors and fellow students. The resulting stories will be offered to local news outlets statewide.
Frequently Asked Questions About JCaL 2023
Latest News & Information

News
The Asian American Journalists Association (AAJA) and CalMatters are excited to announce the inaugural cohort of 23 California high school students for their JCal 2023 program. The all-inclusive journalism program
Read More »

News
APPLY FOR THE PROGRAM BY FEB. 1, 2023 The Asian American Journalists Association is proud to announce JCal, a new program for high school students, created in partnership with CalMatters.
Read More »