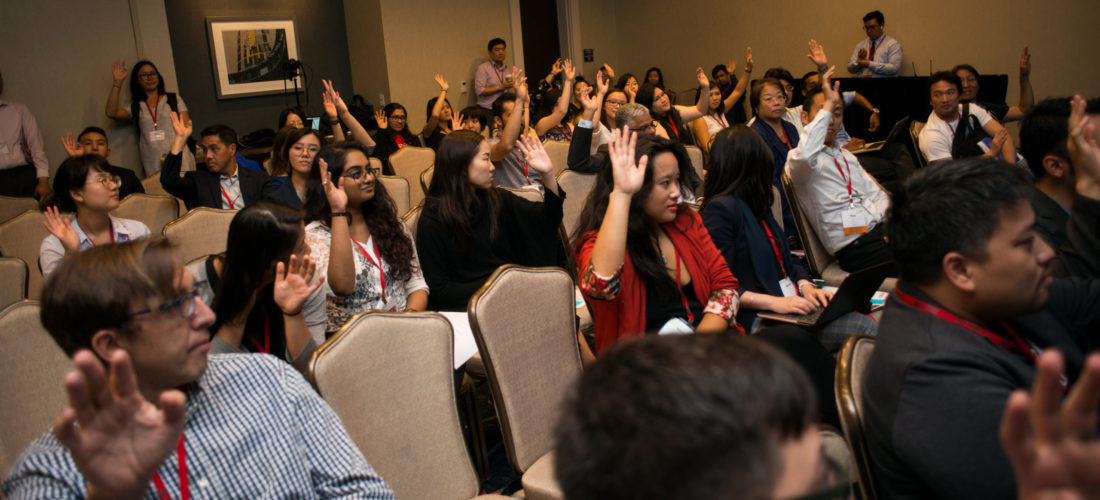 AAJA's VOICES program is a rare opportunity for college students to develop reporting and leadership skills under the tutelage of industry professionals.
A cohort of 15-17 students participate in pre-convention training that will include interactive online courses, and are assigned stories covering the journalism industry and AAPI community. Finished works are then published on the Voices site at voices.aaja.org. This innovative opportunity, which celebrated its 30th year in 2020, trains students and professionals before and during AAJA's annual convention. 
If you'd like to stay up to date on all things AAJA, sign up for our newsletter!
Voices serves as a multimedia journalism training fellowship for college and graduate students, as well as a leadership program for young journalists.
At this time, we are planning to run Voices in-person this year. Our utmost priority is the safety and well-being of our student participants, and we will make decisions based on recommendations from public health and government authorities. We thank you for your interest.
Now in its 32nd year, Voices is a student fellowship program that equips student journalists with career-ready skills to succeed in the continually evolving media landscape. The program aims to help journalists understand how audiences engage with them, how communities view the work they produce, and how they can understand the impact their work has. By nurturing relationships between students and professional volunteers, Voices gives fellows the opportunity to tap into mentors' networks and grow their own.
We are looking for undergraduate and graduate students who are interested in spending the summer producing a long-form, in-depth news project over the course of the summer. We want students who are excellent storytellers and who are interested in new technologies and story forms. Reporters, social media strategists, designers, developers, data engineers, podcasters, broadcasters and bloggers are all welcome to apply.
The program this year will consist of summer-long training and project work that begins in May and culminates at the AAJA 2022 Convention in Los Angeles on Wednesday, July 28 to Saturday, July 31.
Students from the program's 30-year history have gone on to work for news outlets like Bloomberg and the New York Times. Many Voices alumni return to the program as faculty and mentors; in 2013, Voices entered the third generation of students who came back as staff. Alumni also provide key networking opportunities and donate to the program. Find out what alumni from past programs are doing now!
Programs like VOICES are important to young journalists like me because they give us a chance to be mentored by top-level professionals, report intensively on stories during a national convention and network with journalists from all over the country … My mentors guided me through each day of the program and pushed me forward on my career path. It compensated for what cannot be learned or obtained in school
I left the program with a completely new perspective on who I am as a journalist. It was because of VOICES and the extraordinary men and women who came to share their insight with us, collaborate with us on our reporting and or simply to get to know us as young journalists that I am a more inspired and ambitious member of this industry.
AAJA VOICES was a phenomenal experience. I had never considered broadcast as a career, and the VOICES faculty were instrumental in opening broadcast journalism to me as a potential option. The friendships and connections you make at VOICES stay with you long after the convention is finished.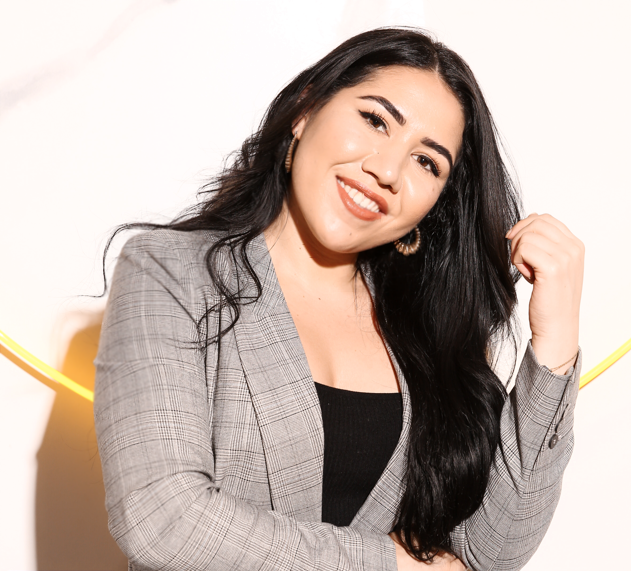 FARNOUSH AMIRI (Co-Director)
Farnoush Amiri is currently a reporter with The Associated Press, based in Columbus, Ohio, through the Report for America program. She covers Ohio politics, general news and is on the national police reform beat team. Before coming to the AP, Farnoush worked as a digital reporter at NBC News, where her reporting took her to Puerto Rico to cover the aftermath of Hurricane Maria. She received a master's from New York University's Arthur L. Carter Journalism Institute in late 2018. In addition to her helping lead Voices, she currently serves as the vice president of the South Asian Journalists Association.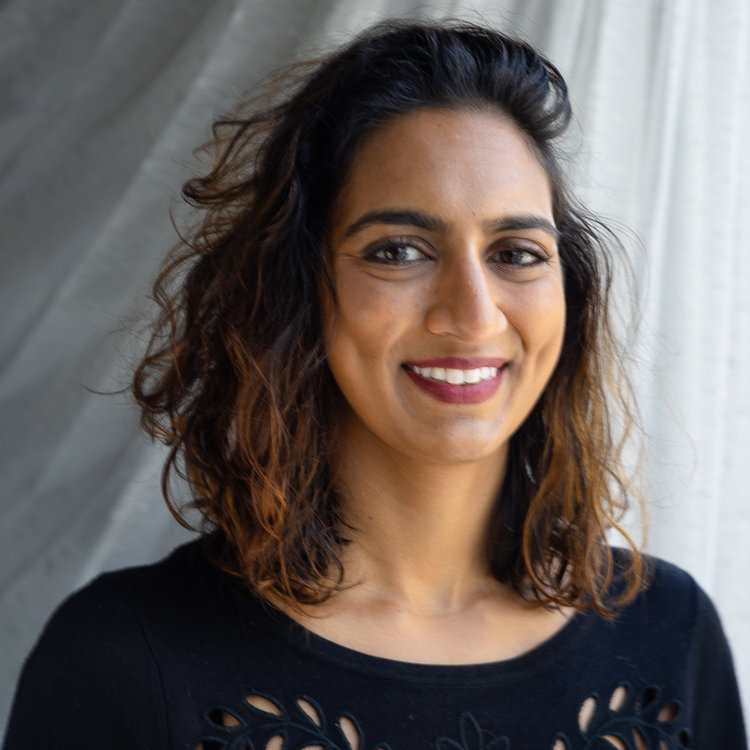 MAYA SRIKRISHNAN (Co-Director)
Maya Srikrishnan is an investigative reporter at the Center for Public Integrity. She previously was a reporter at Voice of San Diego covering the U.S.-Mexico border and immigration issues, and previously wrote about education, housing and land use issues in San Diego County. Maya was raised in New York and studied history at the University of Texas in Austin. She has a master's in international affairs from Columbia University's School of International and Public Affairs and was a fellow at the Toni Stabile Center for Investigative Journalism at Columbia's Journalism School. Maya also served in the Peace Corps in Panama, where she trained Panamanian teachers for nearly three years.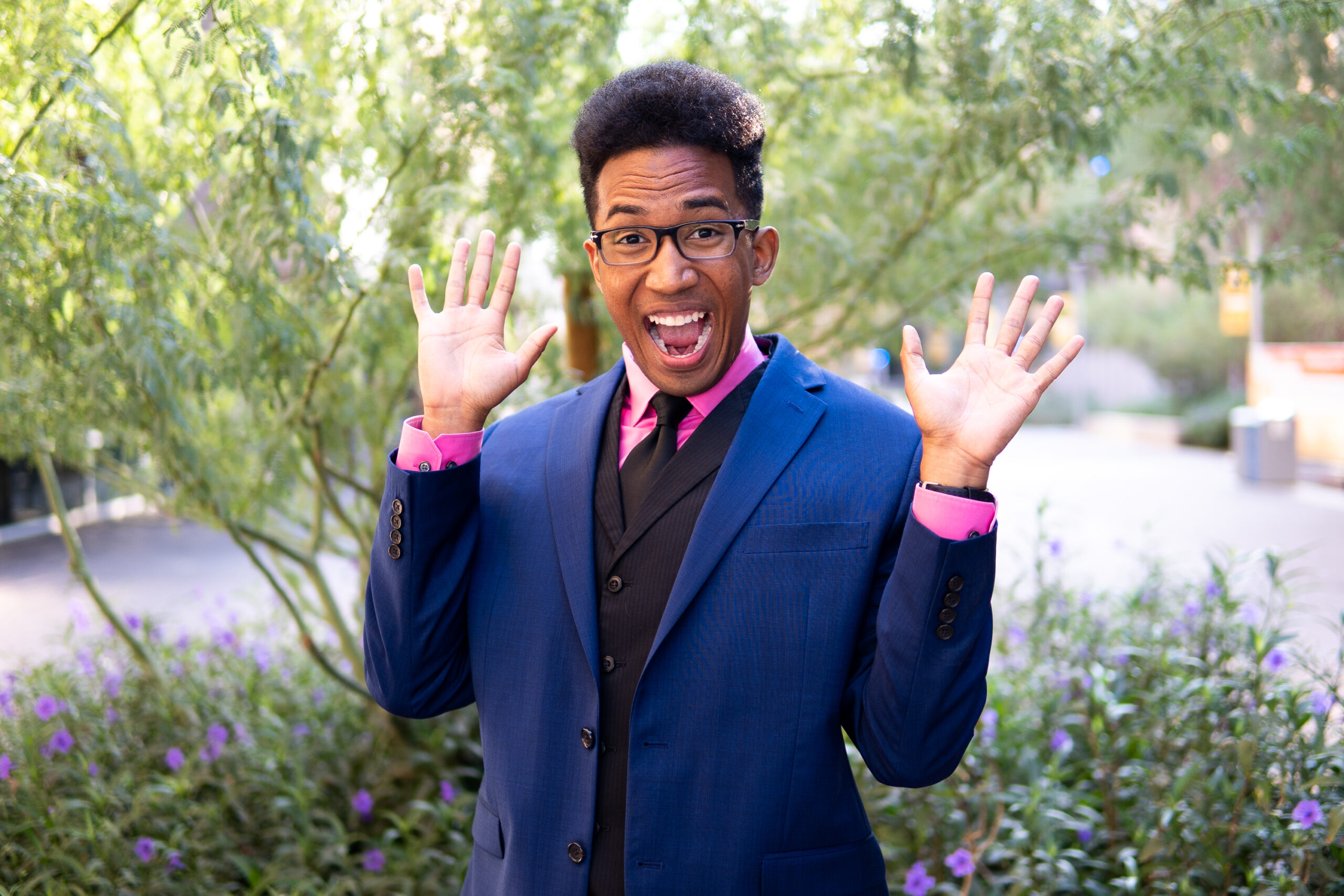 ISAAC "IKE" EASLEY (Deputy Director)
Isaac Easley graduated from Arizona State University's Cronkite School of Journalism and Mass Communication in 2012. He was a producer for MGM Resorts, started his own production company, Take It Easley Productions, and worked for the content team at Phoenix Suns. While working for the Suns, he received an Emmy and Telly Award, and took on a teaching position with Cronkite. He fell in love with teaching and currently teaches Video Journalism and Innovation at Cronkite. You can learn more about him in his video introduction here.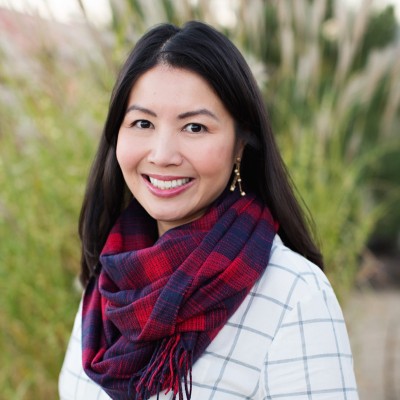 ANH GRAY (Deputy director)
Anh Gray is a contributing editor at KUNR Public Radio in Reno, Nevada. Her reporting work earned a Regional Edward R. Murrow Award in the 2019 hard news category, and she's been a two-time recipient of the Associated Press Television Radio Association best reporter recognition in her region. Working with early-career journalists on honing the craft of writing, producing, and voicing audio stories is Anh's career highlight. She's Report for America's Audio Coach for a 10-newsroom pilot program supported by the Corporation for Public Broadcasting. Anh is also a mentor with NPR's Next Generation Radio, a week-long multimedia training project.
Applications for the 2022 VOICES cohort are now closed. The deadline was March 31, 2022. Check back next year for 2023 application information. Learn about the 2022 cohort here. 
Applicants must be enrolled as a full-time college student or recent graduate (within one year) with a serious interest in pursuing journalism as a career.
Applicants must be 18 years of age or older.
Applicants must not be a former participant in any AAJA Voices or college student projects with similar journalism organizations.
AAJA welcomes donations to its student and professional programs throughout the year. Your donation to the VOICES program will go a long way toward helping the students produce quality work and gain valuable newsroom experience!
Latest News & Information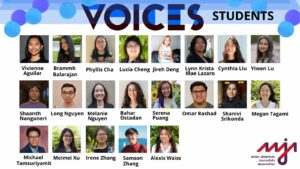 News
After a competitive application process, AAJA is proud to announce the students and mentors selected to participate in the 2022 VOICES program. This year's cohort will create long-form journalistic projects
Read More »