The Asian American Journalists Association is pleased to announce the 2023 cohort of AAJA VOICES, a multimedia journalism fellowship that accelerates the skills of college journalists by pairing them with professional mentors. AAJA is also pleased to introduce the 2023 VOICES leadership team, all highly accomplished journalists, two of them VOICES alumni.
The signature AAJA VOICES program has offered student journalists a chance to develop reporting and leadership skills with industry professionals for the last 33 years. VOICES alumni have moved on to work for several news organizations, from CNN to the Los Angeles Times.
Meet the 2023 VOICES leadership team: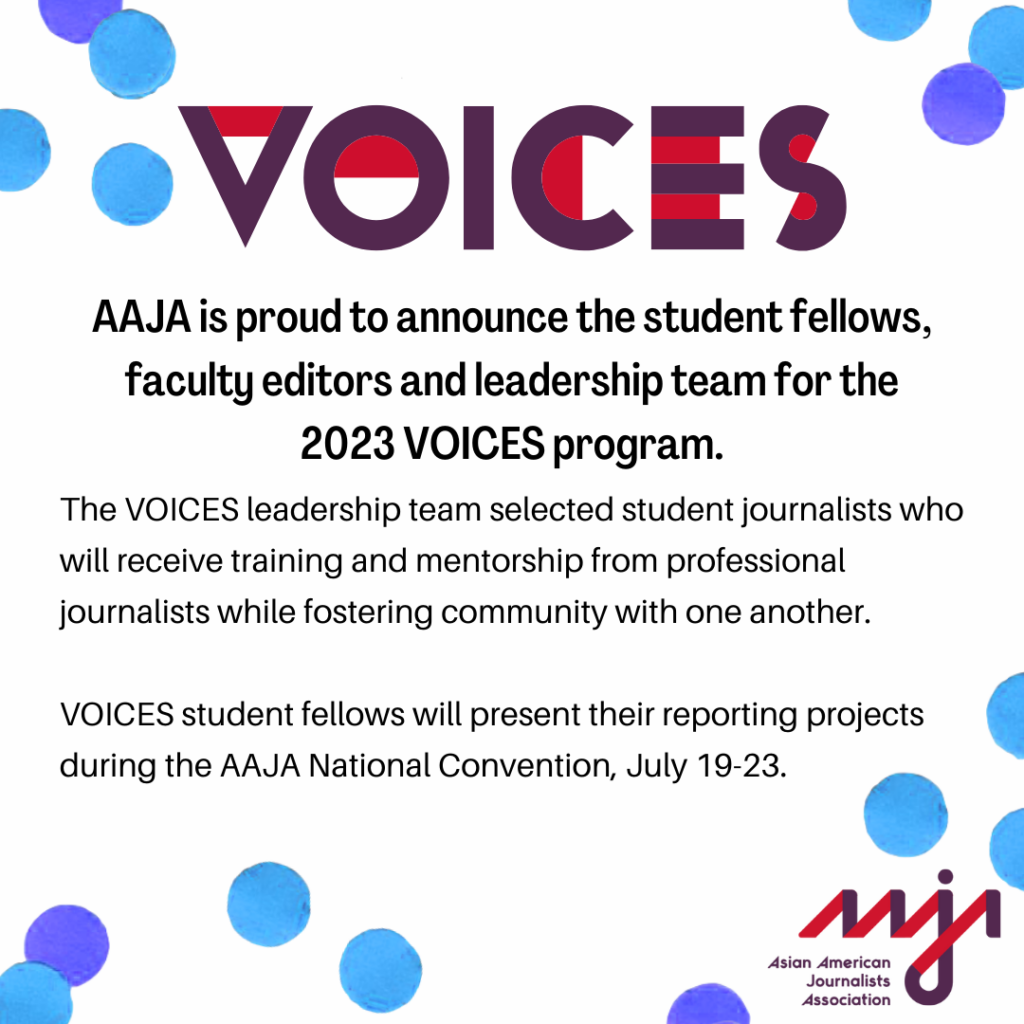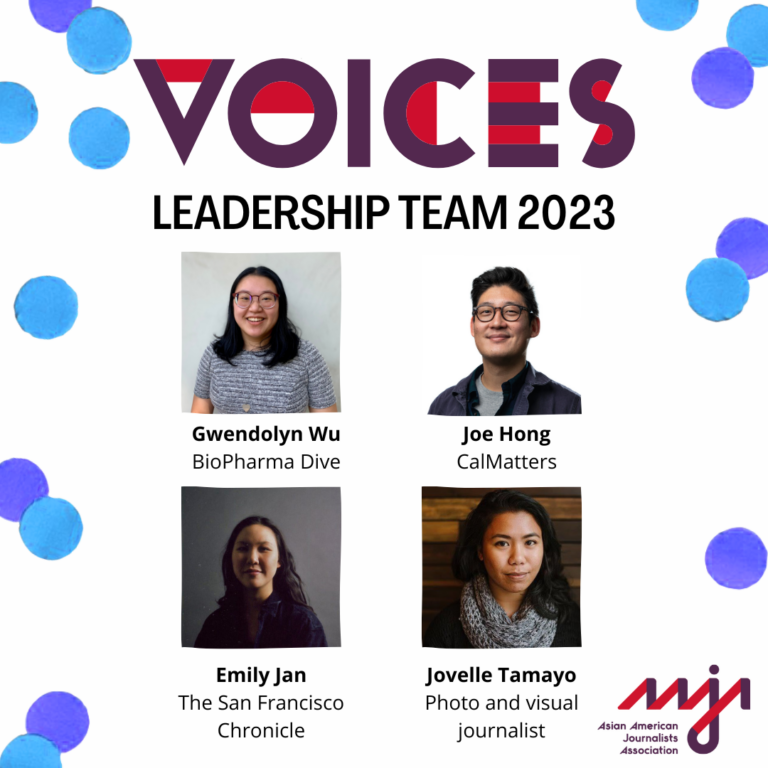 Gwendolyn Wu (she/her) was part of the 2018 VOICES student cohort in Houston. She is now a reporter at BioPharma Dive, covering biotech startups and venture capital. Previously, she authored Bay Briefing, the San Francisco Chronicle's flagship weekday newsletter, and covered COVID-19 and the business of healthcare for the Houston Chronicle. Outside of the newsroom, she co-directs the AAJA Young Professionals Network (yung AAJA) and teaches at the California Scholastic Press Association summer workshop. She has degrees in history and sociology from the University of California at Santa Barbara.
Joe Hong (he/him) is the K-12 education reporter for CalMatters, a nonprofit newsroom covering California state politics and policy. Before joining CalMatters in 2021, he was the education reporter at KPBS, the public radio station in San Diego. Previously, he reported on education in the Coachella Valley for The Desert Sun, a daily newspaper in Palm Springs. He's a proud graduate of California's public schools. Joe also served as a faculty mentor during the 2022 VOICES program in Los Angeles.
Emily Jan (she/her) is deputy director of visuals at The San Francisco Chronicle, where she works with a team of multimedia journalists with the goal of using documentary photography to inform and enlighten. She's passionate about ethical visual storytelling, media literacy and snacks. Previously, she was The Atlantic's first-ever digital photo editor and art director.
Jovelle Tamayo (they/she) is a multimedia editor at The Marshall Project. Previously, they contributed photo and video journalism to publications including The New York Times, The Washington Post, NPR, TIME magazine and Audubon. They are a founding member of the Authority Collective, a community of women and non-binary imagemakers of color, and a co-author of the Photo Bill of Rights, which advocates for equity and safety in the visual media industry. Jovelle has also served as Vice President of Programs for Seattle's AAJA chapter.

Gwendolyn, Joe, Emily and Jovelle will serve as VOICES co-leads for the 2023 student cohort. They succeed Farnoush Amiri and Maya Srikrishnan, who served as VOICES co-directors for the last two years, leading the program through the pandemic in virtual and in-person modalities. We are grateful to Farnoush and Maya for their leadership and service.
After a competitive application process, AAJA is also excited to announce the cohort selected to participate in the 2023 VOICES program. This year's program will consist of months-long training and project work that begins in late spring and culminates at the AAJA 2023 Convention in Washington, D.C. this summer. We're looking forward to seeing the work that these young journalists produce as they build community with each other and cultivate leadership skills under the mentorship of experienced editors.
AAJA is proud to accept the following students for VOICES 2023: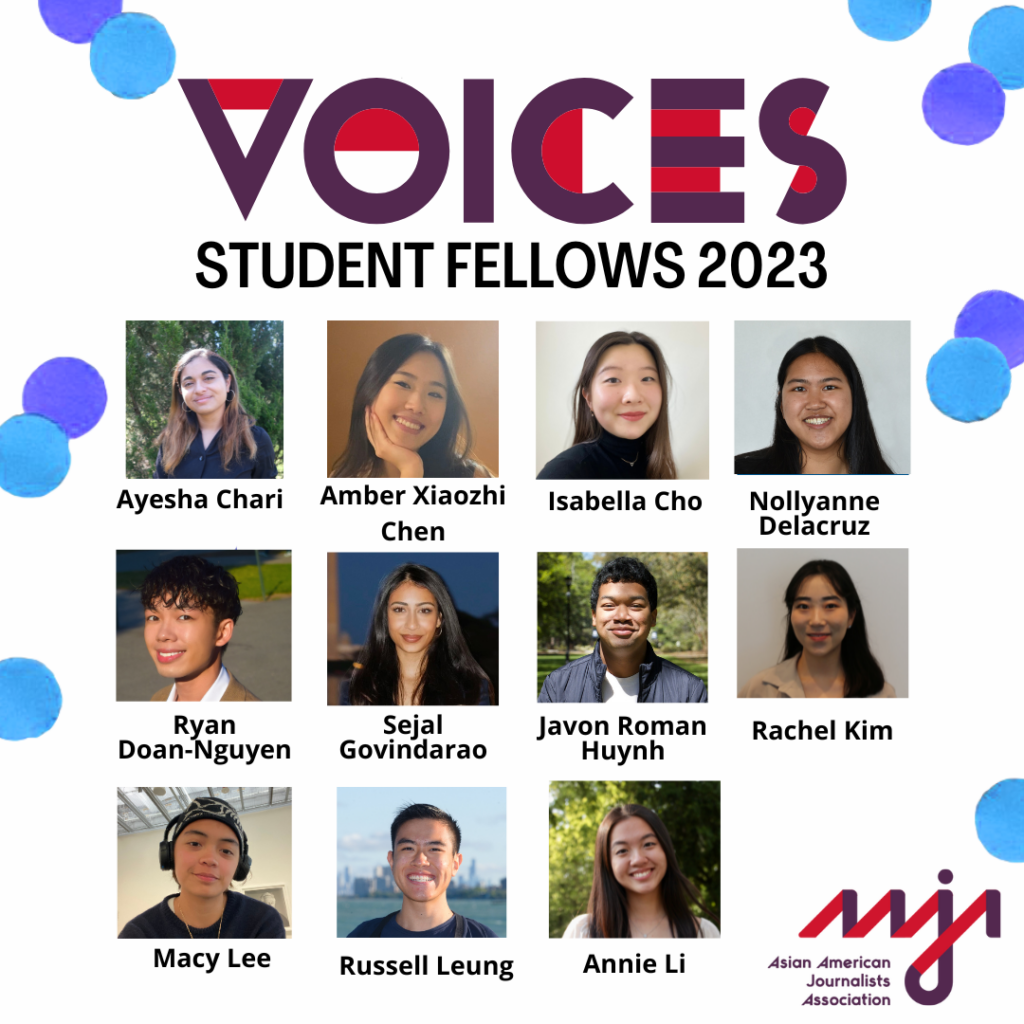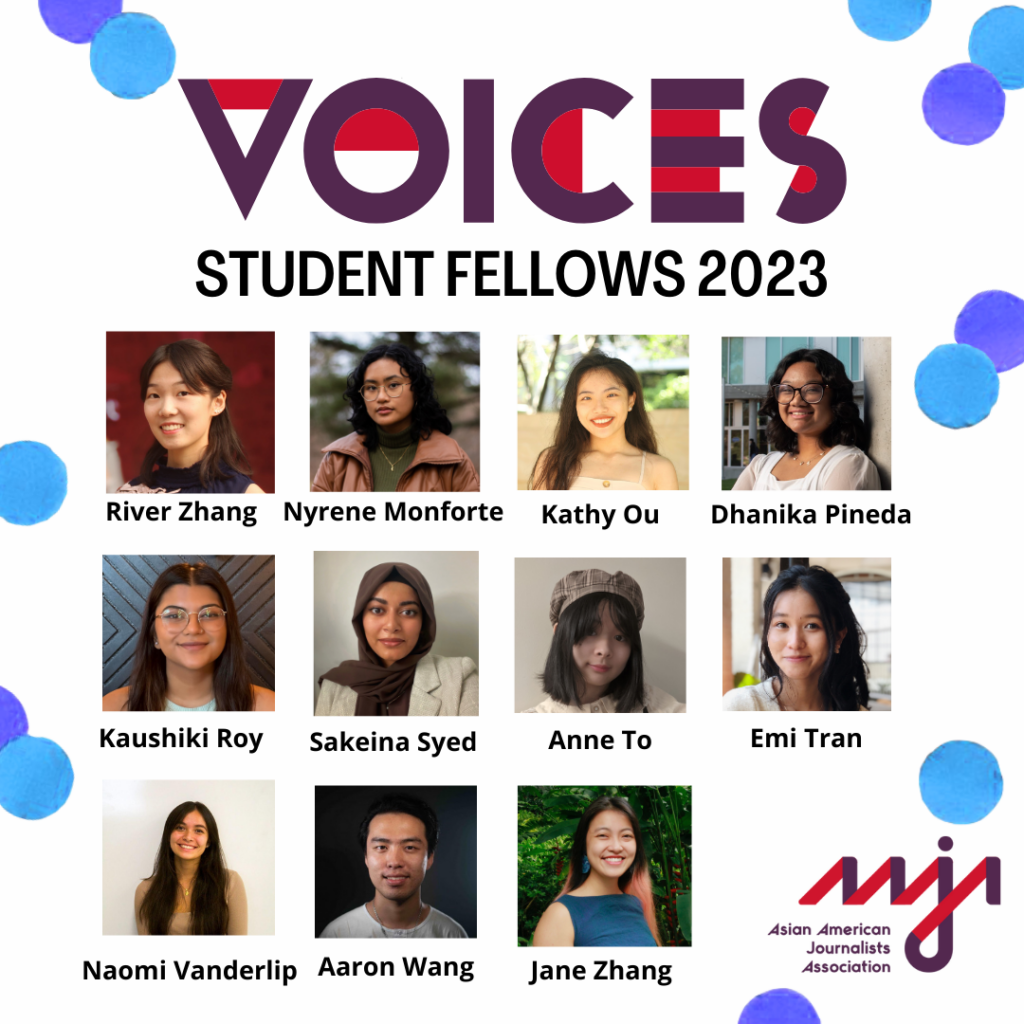 2023 VOICES COHORT:
Ayesha Chari, Cornell University
Amber Xiaozhi Chen, University of California, Berkeley
Isabella Cho, Harvard University
Nollyanne Delacruz, California State University, Fullerton
Ryan Doan-Nguyen, Harvard University
Sejal Govindarao, George Washington University
Javon Roman Huynh, Georgia Southern University
Rachel Kim, New York University
Macy Lee, University of California, Davis (class of 2022)
Russell Leung, Northwestern University
Annie Li, University of Oxford
Nyrene Monforte, University of Maryland, College Park
Kathy Ou, New York University
Dhanika Pineda, University of California, Irvine
Kaushiki Roy, The University of Texas at Austin
Sakeina Syed, York University
Anne To, California State University of Los Angeles
Emi Tuyetnhi Tran, University of Pennsylvania
Naomi Vanderlip, California Polytechnic State University, San Luis Obispo
Aaron Wang, Northwestern University
Jane Zhang, New York University
River Zhang, New York University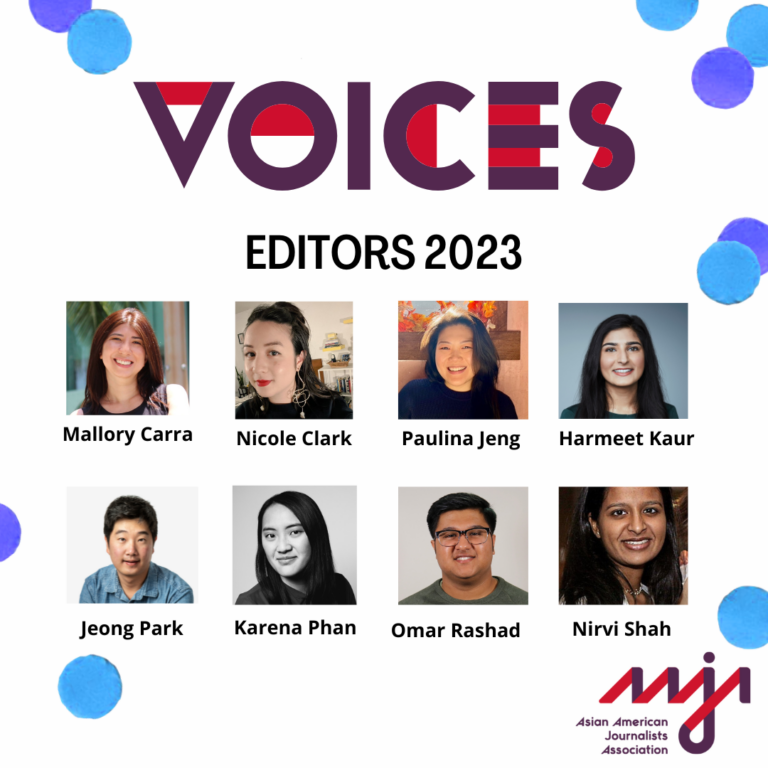 2023 VOICES EDITORS:
Mallory Carra, Podcast Writer, Spotify, Adjunct Professor, USC Annenberg
Nicole Clark, Culture Editor, Polygon
Paulina Jeng, Audience Editor, NBC News
Harmeet Kaur, Culture Writer, CNN
Jeong Park, Asian American Communities Reporter, The Los Angeles Times
Karena Phan, News Verification Reporter, The Associated Press
Omar Rashad, Government Accountability Reporter, Fresnoland
Nirvi Shah, Education Enterprise Editor, USA TODAY
ABOUT VOICES
Now in its 32nd year, VOICES is a student fellowship program that equips student journalists with career-ready skills to succeed in the continually evolving media landscape. The program aims to help journalists understand how audiences engage with them, how communities view the work they produce, and how they can understand the impact their work has. By nurturing relationships between students and professional volunteers, VOICES gives fellows the opportunity to tap into mentors' networks and grow their own. Learn more here, and see past student work on the VOICES website.