AAPI Heritage Month Programs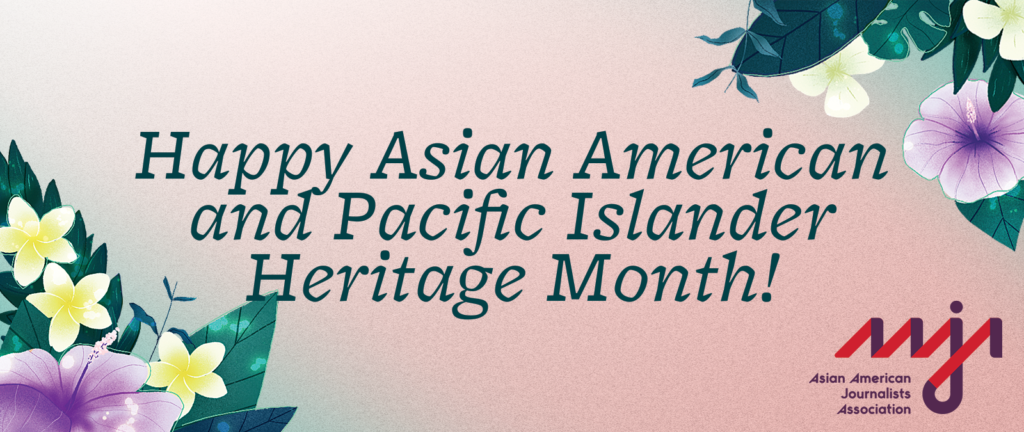 Yung AAJA Office Hours
Hosted by the AAJA Young Professionals Network
Weekdays throughout May
These conversations will take place fully in AAJA Slack. Please make sure you've joined Yung AAJA's channel in Slack: affinity-yung-aaja. Not part of AAJA Slack? Join here.
In honor of AAPI Heritage Month, Yung AAJA (AAJA's young professionals network) presents Yung AAJA Office Hours, a series of conversations with journalists and changemakers to help navigate work and life as an early-career journalist. Because Zoom fatigue is real, these conversations will take place fully in the #affinity-yung-aaja channel in AAJA Slack, where Yung members will ask questions of guests.
May 5 | 7:30-8:30pm ET Navigating early-career work and life: A session with reporter Karen K. Ho, in which she'll take your questions about figuring out career paths, managing burnout, building a brand on social media (and when to take a break from it). 

TBD | Social night! Celebrating food throughout the AAPI diaspora: We'll do a Yung AAJA recipe share, led by Yung director Beena Raghavendran (whose love for Indian food is so deep that she wrote a play about it). Then we'll watch an episode of a cooking show on Netflix Party. 

TBD | Help me negotiate my salary! A session with rockstars who've done it and can offer tips. 
Covering AAPI Hate Incidents 
Hosted by AAJA Philly
Wednesday, May 5 
8:00 pm ET
Register here


Hate crimes. Anti-Asian hate. These phrases have dominated news coverage of the recent assaults on Asians and Asian Americans and of the Atlanta spa shootings. But as prosecutors waffle over whether these attacks are motivated by race and/or gender, and activists and politicians push for new laws, how should journalists be covering violence against Asian Americans?


This panel, hosted by AAJA Philadelphia and open to the public, will examine the ongoing media coverage and framing of "anti-Asian hate." We will discuss how journalists might cover race/gender-motivated attacks in ways that encourage meaningful solutions rather than merely repeating police talking points or exacerbating public fear.


Panelists:


Jaweed Kaleem, a national correspondent for the Los Angeles times who has reported on anti-Asian hate and the Atlanta shootings

Tsiwen Law, a Philadelphia-based attorney who was the first chairman of the Philadelphia Commission on Asian American Affairs and a longtime leader of the National Asian Pacific American Bar Association's civil rights committee

Dr. Lori Kido Lopez, an associate professor of communication arts and director of Asian American studies at the University of Wisconsin, who studies how Asian Americans are represented in the media

Janice Yu, a reporter at Fox 5 in Atlanta who covered the spa shootings and has advocated for more accurate and sensitive coverage of the attack and its impact on Asian American communities

Moderated by Tim Tai, staff photographer at The Philadelphia Inquirer and president of the AAJA Philadelphia chapter.
A Conversation With Salman Rushdie: AAJA celebrates Asian American and Pacific Islander Heritage Month
Hosted by AAJA Atlanta and AAJA-HQ
Thursday, May 6 
7:00 pm ET
Register here


Celebrated author Salman Rushdie will be speaking about diversity, free speech and the impact of his works in the world of literature. Rushdie is the author of Midnight's Children, for which he was awarded the Booker Prize and the Best of Booker prize.


He is the author of 14 novels, short stories collections, essays and non-fiction works. Rushdie is a former president of PEN America and was knighted in 2007 for services to literature. His new book, Languages of Truth, a collection of essays, releases on May 25. CNN reporter Salma Abdelaziz will moderate the event.
An Ode to Our Mothers: Passing on Culinary Traditions 
Hosted by AAJA Los Angeles
Friday, May 7
6:30 pm – 7:30 pm PT
Come join us for an unforgettable night of culinary storytelling featuring AAJA-LA members and friends who will be sharing recipes and dishes alongside their mothers.
Your Rights When Covering Protests ft. Reporters Committee for the Freedom of the Press
Hosted by AAJA-HQ
Monday, May 10
5:00 pm ET
Over the last year, many have you been harassed, even arrested just for doing your job – covering protests and demonstrations. You have a legal right to cover these gatherings and AAJA is here to help equip you with the knowledge to safely do your job. 


Join us on May 10th at 5pm ET for this seminar on your legal rights when covering these events. Attorneys from the Reporters Committee for the Freedom of the Press will discuss legal issues to consider when covering protests and other mass demonstrations. These include the right to record, best practices for safely reporting on protests, ways to avoid arrest, what to do if arrested, and more. We will also have a Q&A in which you can ask these attorneys your legal questions about newsgathering.
At the Crossroads: COVID-19, Racism, and Disinformation
Hosted by the Woodrow Wilson International Center for Scholars in partnership with AAJA
Thursday, May 13
1:00 – 2:00 pm ET
For more than a year, we have been fighting three viruses: COVID-19, racism and disinformation. For Asian Americans, concerns about COVID-19 are accompanied by fears of violence, with the number of reported attacks on Asian Americans surging during the pandemic as much as by 145%, according to a recent study by the Center for the Study of Hate and Extremism at California State University, San Bernardino. One cause of this increase is disinformation campaigns that specifically tie the spread of the pandemic to racist narratives, scapegoating Asian communities and Asian Americans as the agents for COVID-19.


The Woodrow Wilson International Center for Scholars invites you to join us for a program that will shed light on this convergence, by examining the impact disinformation has had on Asian American communities, and its impact on our global standing. What has been the impact of disinformation on Asian Americans? How are certain groups targeted in disinformation? What has been the impact of these trends on diplomatic relations with Asian countries as well as US standing in the region?
Pitch Perfect: Making it as a Freelancer
Hosted by AAJA Chicago
Thursday, May 13, 
6:00 – 7:30PM CT
Join AAJA Chicago for a lively conversation on freelance journalism, featuring independent reporters and critics from around the city. We'll talk about the state of the media industry, discuss the art and science of pitching, and share advice on managing your time and money. This free panel will be moderated by our secretary-treasurer, Taylor Moore, and will feature freelance writers Ines Bellina, Britt Julious, and Kiran Misra.


Panelists:
Ines Bellina is a freelance writer, storyteller, and bon vivant. She has bylines in Shondaland, The A.V. Club, The Takeout, Wine Enthusiast, Block Club Chicago, and more. She is also one of the co-authors of the photography book LNGSQ: Gentrification & Preservation in a Chicago Neighborhood.


Britt Julious is a writer, editor, essayist, and storyteller for publications like The New York Times, Vogue, Bon Appetit, Esquire, ELLE, Women's Health, and others. She's currently the music critic for the Chicago Tribune, serves as the editorial director of Cancer Wellness magazine, and previously edited for Vice's THUMP. In 2019, she won the Studs Terkel award in journalism.


Kiran Misra is a reporter, policy researcher, and translator primarily covering criminalization, policing, and incarceration as well as the intersection of immigration and political identity. Her reporting focuses on demystifying the mechanisms behind systems of political power and spotlighting the stories of people who are most impacted by them. By day, she works as a Government Partnerships Officer for the United Nations World Food Programme and is a Longworth Media Fellow with the Pulitzer Center on Crisis Reporting and Chicago Council on Global Affairs.


Taylor Moore is a freelance journalist who covers arts and culture, urban issues, and social justice. She has written for The Guardian, Vice, Columbia Journalism Review, Chicago Reader, and other outlets, and currently serves as a board member of AAJA Chicago and the Chicago Headline Club.
Embracing Cultural Confidence: Resilience
Hosted by AAJA-HQ, AAJA Women and Non-Binary Voices Affinity Group, AAJA At-Large Chapter and AAJA Plus Task Force
Sunday, May 16
7:00 pm ET
As AAPI journalists, we are living through a time when every day could become a battle at work and at home. So many of us are tired, exhausted, finding it hard to focus — but have to keep telling the stories that matter for our community. When you take care of yourself, you are more equipped to support your loved ones and accomplish things you're passionate about.


The Asian American Journalists Association is partnering with Jeanie Chang, a Licensed Marriage and Family Therapist and a former broadcast journalist, to host a series of three solutions-based, culturally-competent mental-health workshops customized for our members.
This workshop, last in a series of three, will focus on resilience.
Bulgogi to Bao: A Conversation with Arizona AAPI Chefs
Hosted by AAJA Arizona
Sunday, May 25
6:00 pm PST
A virtual panel between AAJA Arizona Chapter and the Arizona Asian Chamber of Commerce with local chefs.
AAPIs and Mental Health to Out of the Shadows: AAPI Mental Health in an Era of Violence
Hosted by AAJA-HQ
Sunday, May 25
7:00 pm ET
As The recent spike in violence in violence against Asian Americans has not only been traumatic, but also exposed history of racism that our community has grappled with in many forms, from micro-aggressions to systemic problems. Discussing mental health, for many, has been taboo or challenging to access. We sit down with Dr. Josephine Kim, a Lecturer on Education at Harvard Graduate School of Education and an expert on Asian American mental health, for a wide-ranging and timely discussion.