The awardee will receive $2,000 in honor of Al Young, a longtime member and ardent supporter of AAJA who is an Asian American pioneer in sports media and is dedicated to empowering the voices of Asian American journalists. The scholarship is made possible thanks to the Sports Task Force and a yearly donation by Al Young.
Applicants will be selected on the basis of academic achievement, demonstrated journalistic ability, financial need, a strong commitment to the pursuit of a sports journalism career and dedication to AAJA's mission of advancing Asian Americans and other underrepresented communities in media.
About the AAJA Task Force
The mission of the AAJA Sports Task Force is to elevate the voice of Asian Americans in sports and encourage future Asian American sports journalists across multiple media platforms through mentorship and scholarship opportunities.
Sports are increasingly becoming part of everyday lives. Beyond the entertainment value, sports issues have – at times – led newscasts and made headlines across traditional news outlets. What has been lacking is the perspective of Asian American voices in sports media. The AAJA Sports Task Force scholarship is one way to turn the tide. The scholarship is designed to specifically help Asian American/Pacific Islander students interested in sports reporting or other sports media-related professions.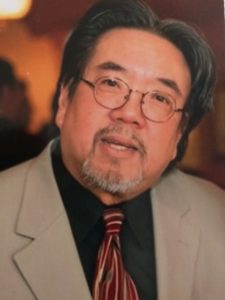 Al Young is an award-winning journalist who blazed many trails for Asian American sports journalists. He is the nation's first Asian American sportswriter at a metro daily newspaper. He is also the first Asian American to cover the NFL as the New Haven Register beat writer for the New York Giants and Jets. While with the Register, he also wrote a weekly column that was the first in the country focusing on national and local personalities and trends in women's sports.
Young's career spans more than four decades. He was a writer and editor at the Boston Globe, USA Today, the New York Daily News, the New Haven (CT) Register and Bridgeport (CT) Post-Telegram.
In 2010, AAJA named Young to its inaugural honor roll as an "Asian American Pioneer in U.S. journalism." He is a past president of AAJA's Washington, D.C. chapter. Retiring in 2013 from the Boston Globe, Young is currently the advisor to the student newspaper at Quincy College in Massachusetts.
APPLICATION DEADLINE: Sunday, Jan. 31, 2021, at 11:59 p.m. PT
The winner will be notified by the end of February. If selected, you will be asked for documentation to support the information you provide. Likewise, all correspondence and award agreements will be generated from the personal information submitted below. So, please use proper spelling, capitalization and punctuation.
Questions? Email support@aaja.org with the subject line the name of the particular Scholarship. For more about the AAJA Sports Task Force, visit sportstaskforce.com.
Applicants must be an undergraduate student enrolled full-time with at least 12 credit units each semester at a junior college or university located in the United States

Applicants must be currently taking or planning to take journalism courses and/or pursuing sports journalism as a career

Applicants must have a minimum 3.0 GPA

The selected scholarship recipient must commit to a minimum of five hours of volunteer work for the AAJA Sports Task Force

The recipient must use the scholarship funds to directly support or advance their education. Potential expenses include tuition, room and board, textbooks or other course equipment or materials. The recipient must follow up with the Sports Task Force within 60 days of receipt of the scholarship to identify how they spent the funds