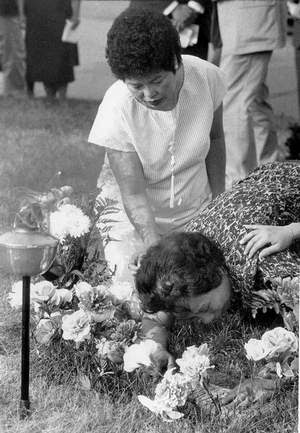 Picture: Lily Chin buries her son on her 62nd birthday.
Vincent Chin Memorial Scholarship  $1500. Available to current student journalists for writing about the legacy of Vincent Chin in essay form.  Application Deadline: April 21, 2020  
Vincent Chin's legacy lives on. The brutal attack that took his life occurred late at night with few people around, but its reverberations spread across the country and have lasted for decades. Asian Americans came together to demand justice and found a common voice and purpose. Yet questions remain and justice goes undelivered.
In honor of Chin and thanks to the generosity of Joe Grimm, a former newsroom recruiter and staff development editor for the Detroit Free-Press, the Asian American Journalists Association (AAJA) has established a college scholarship. This $1500 scholarship rewards an accomplished, community-minded student journalist for an insightful, articulate essay related to Chin and his legacy.
Applicants must be a current member and committed to AAJA's mission.

Applicants must demonstrate journalistic excellence, a strong interest in pursuing journalism as a career, and a commitment to community involvement.

Applicants must be a current undergraduate student enrolled full time with at least 12 credit units each semester for for this year or the spring semester of next year. Applicants must be currently taking or planning to take journalism courses and/or pursuing journalism as a career.
Resume One-page resume listing your educational background, work history, awards, journalism-related internships, other scholarships, language proficiency and any work done for your school or community newspaper, website or TV station.
Letters of Recommendation Two references from people who are familiar with your academic and/or journalism work. (Examples: professors, counselors, employers, faculty advisers, etc.). Letters from relatives will not be accepted.
Unofficial School Transcript If you have attended more than one school, a transcript is required from each institution unless grades from the previous school(s) appear on the present transcript.
Proof of enrollment A copy of your current course schedule, or your upcoming course schedule if enrolled in a program beginning next term.
Essay 300 words or less that explain your commitment to journalism and photography. All written parts of the submission must be submitted in English.