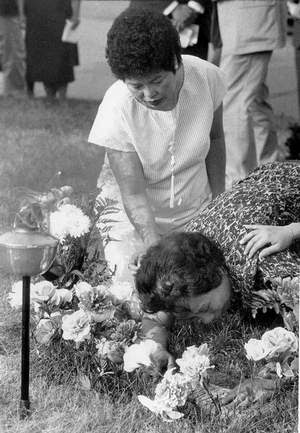 Picture: Lily Chin buries her son on her 62nd birthday.
This scholarship awards $1,500 to a student journalist for an insightful essay related to Vincent Chin's life, death and legacy. Other selection criteria includes academic and journalistic achievement, financial need, commitment to journalism and a sensitivity to AAPI issues.
Must be a current AAJA student member
Demonstrate a commitment to AAJA's mission in the answer to the essay question
Must be an undergraduate student enrolled full-time (at least 12 credit hours) at an accredited college or university (including junior and community) in the United States or one of its territories
Must be currently taking or planning to take journalism courses and/or pursuing journalism as a career
Applicants must demonstrate the following:

journalistic excellence by submitting current works (digital, photography, video/audio), and
a strong interest in pursuing journalism as a career
a commitment to community involvement.
Resume
Transcript
At least one letter of recommendation
Work samples
Brief statement outlining financial need
Answer one of the following essay questions:
Could it happen again? The attack on Vincent Chin occurred during a time in which Asians, specifically Japanese, were blamed for U.S. unemployment. People literally bashed Japanese cars with sledgehammers. Video and photos of such acts were shown in the news media. Few people connected them to potential attacks on real people. Does symbolic violence make it more acceptable to attack people? Does this climate exist against other people today? What can be done?
How are Asian Americans one people? Asian Americans overcame many differences in rallying together to seek justice after Vincent Chin's killing. They came from different cultures and language backgrounds. They brought histories of being foes as often as being allies. In the Detroit area, though, they decided that an attack on a Chinese American man, assumed to be Japanese, was a danger and an injustice to all. They united in protest. Some call this the start of a pan-Asian consciousness in the United States. How does life in the United States make people from so many nationalities one group?
Protest or conform? Some Asian Americans were reluctant to join the Vincent Chin cause. They had been pursuing success by getting along in the mainstream. Some had been acculturated to not make trouble or call attention to themselves. Yet a group of people began writing letters, visiting the media and protesting in the streets. This question about whether to protest or conform comes to every one of us. Although the stakes are not as high as justice over the death of a young man, we are all confronted at work or in other groups to decide: When and how do you make a stand?
Who was Lily Chin? The Vincent Chin trials paint the portrait of a mother in anguish. We frequently ask who was Vincent Chin or who killed him. The emergence of his mother as a strong voice is a compelling story too. Describe her life and her legacy.
About the Vincent Chin Memorial Scholarship
The brutal attack that killed Vincent Chin occurred late at night with few people around, but its reverberations spread across the country and have lasted for decades. Asian Americans came together to demand justice and found a common voice and purpose. Yet questions remain and justice goes undelivered.
This scholarship honors the legacy of Chin thanks to the generosity of Joe Grimm, a former newsroom recruiter and staff development editor for the Detroit Free Press.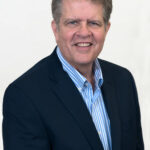 Embarrassed and shamed by the killing of Vincent Chin, Joe's friendship with AAJA helped him decide to elevate a story he wanted to hide. Journalism teaches that it is only through learning, even when it is painful, that we can become better, more purposeful people.  
Questions? Email support@aaja.org.
Scholarship Recipients and Press By Year

The Asian American Journalists Association is proud to announce our 2023 scholarship, internship, grant and fellowship winners. This year's recipients were chosen from a competitive selection of highly qualified candidates
Read More »
Discover other opportunities here.
Support our future AAPI journalists.