This scholarship awards $5,000 to an Asian American graduate student pursuing journalism as a career. The selected student will also receive travel, lodging and registration to attend AAJA's national annual convention and a mentor for the convention.
Candidates will be judged on academic and journalistic achievement, commitment to the field of journalism and sensitivity to AAPI issues. Applicants must produce a piece of concise and comprehensive journalism that provides unique context on a current geopolitical issue based on a prompt provided by CIC or AAJA.
Must have a current AAJA membership

Must be a graduate student currently enrolled full time at a college or university in the United States or one of its territories
Must identify as Asian American
Must be committed to AAJA's mission
Resume
An official college/university transcript
A statement justifying financial need
A letter of recommendation from a professional  who is familiar with your academic and/or journalism work
Work samples
An answer to this question:    
Describe any involvement or interest you have in the Asian American/Pacific Islander (AAPI) community. If you were awarded an AAJA scholarship, how would you contribute to the field of journalism and media issues involving the AAPI community?
An original piece of journalism that addresses a prompt in the application. 
The scholarship is made possible thanks to the estate of Anna Chennault and The Council for International Cooperation.

Anna Chennault was a writer, lecturer, international business executive and founder and chairman of the Council for International Cooperation (CIC). A graduate of Lingnan University, Mrs. Chennault held six honorary doctorate degrees in the fields of law, humanities and business administration and lectured at schools and universities on international affairs. She also authored more than fifty books in English and Chinese, several of which were on the New York Times Best Seller list.
Chennault was actively involved in national affairs and international commerce for over 45 years. Personal friends with many American presidents, she served as a member of numerous governmental and citizen committees addressing U.S. domestic and international issues. She served as Vice Chairman of the President's Export Council, White House Commissioner of Presidential Scholars, founder and chairman of the National Republican Heritage Groups Council and as International Chairman of the Franklin Delano Roosevelt Memorial Commission. In China, Chennault served as honorary senior adviser to numerous civic organizations, governmental agencies and educational institutions.
About The Council for International Cooperation
The Council for International Cooperation is a non-profit private organization, whose goal is to promote better understanding between the United States, China and Taiwan. The CIC supports educational exchange programs in the arts, humanities and sciences. The CIC provides support to educational foundations and scholarships, awards of excellence, conferences and seminars and scholarly and professional collaborations.
Questions? Email support@aaja.org.
Scholarship Recipients and Press By Year

The Asian American Journalists Association is proud to announce the five recipients of this year's Facebook Journalism Project Scholarship: Angelique Chen, Sriharsha Devulapalli, Minju Kim, Mingson Lau and Siqi "Karen" Wang.
Read More »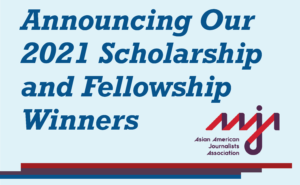 The Asian American Journalists Association is proud to announce the 2021 scholarship and internship winners. After careful consideration, winners were selected from a pool of highly qualified and competitive
Read More »
Discover other opportunities here.
Support our future AAPI journalists.