ABOUT ANNA CHENNAULT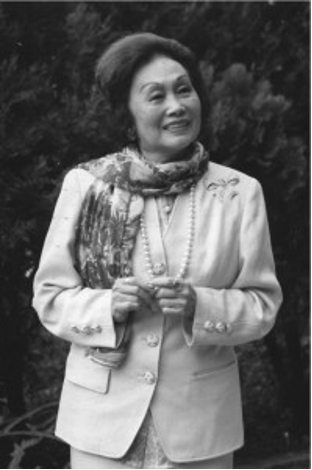 Anna Chennault is a writer, lecturer, international business executive, and Chairman of the Council for International Cooperation (CIC). A graduate of Lingnan University, Mrs. Chennault holds six honorary Doctorate degrees in the fields of Law, Humanities, and Business Administration. With her journalism background, she lectures at schools and universities on international affairs. As an author, she has over fifty books published in English and Chinese. Several of her books, such as A Thousand Springs and The Education of Anna were on the New York Time's best seller's list.
Her late husband was Lieutenant General Claire L. Chennault, commander of the American Volunteer Group "Flying Tigers", the China Air Task Force, and the U.S. 14th Air Force in China in World War II. Anna Chennault has been actively involved in American national affairs and international commerce for over 45 years.
Personal friends with many Presidents of the United States, she had been appointed and had served as a member of numerous governmental and citizen committees addressing U.S. domestic and international issues. In public service, she had served as Vice Chairman of the President's Export Council; White House Commissioner of Presidential Scholars; Founder and Chairman of the National Republican Heritage Groups Council; and as International Chairman of the Franklin Delano Roosevelt Memorial Commission.
Mrs. Chennault served on the Advisory Boards of the Center for Strategic and International Studies, People-to-People International, and US-ROC Business Council. She was also active in a number of organizations affiliated with the military. She is the Founder and past-Chairman of the Advisory Board of the National Military Families Association. As a life-time member of the 14th Air Force Association and the current Flying Tigers Descendants Association, Mrs. Chennault was a board member and past Chairman of its Awards Committee. In China, Mrs. Chennault has been appointed as honorary senior adviser to numerous civic organizations, governmental departments and agencies, universities and educational institutions.
Anna Chennault is the Founder and Chairman of CIC, a non-profit, non-political organization, whose goal is to promote better understanding between the United States, China, and Taiwan. CIC supports educational exchange programs in the arts, humanities, and sciences. Annually, CIC provide scholarships worldwide, which includes education foundations in China, Chinese language scholarship awards in the United States, and awards of excellence for the faculty at the Walter Reed Army Medical Center.
 ABOUT THE COUNCIL FOR INTERNATIONAL COOPERATION (CIC)
The council is a non-profit private organization, whose goal is to promote better understanding between the United States, China and Taiwan. The CIC supports educational exchange programs in the arts, humanities and sciences. The CIC provides support to educational foundations and scholarships, awards of excellence, conferences and seminars and scholarly and professional collaborations.
PURPOSE
To encourage students to pursue journalism as a career.
To induce competitors to research, learn and give an opinion on a topical news item and to take a stand on this particular issue.
BENEFITS
$5,000 will go towards the student's college education. Please note: AAJA's scholarship policy requires that funds be disbursed directly to the student's financial institution or student loan provider. Please only apply if your tuition costs or student loans exceed $5,000 and if you can commit to attending the AAJA National Convention.
The selected student will receive travel, lodging and registration to attend AAJA's national annual convention.

Depending on the winner's area of study, the student will also be paired with a professional print, online or broadcast mentor at the convention to help them network.
Applicants must be committed to AAJA's mission.

Applicants must be a graduating high school senior that has been accepted to a U.S. college (proof of acceptance required) or a currently enrolled college student at the time of applying.

AAJA membership is not required for the application but if selected, the student must sign up for student membership.
Candidates will be judged on the basis of academic achievement, demonstrated journalistic ability, commitment to the field of journalism and/or sensitivity to Asian American and Pacific Islander Issues.
One copy of an official high school or college transcript

One letter of recommendation from a professional who is familiar with your academic and/or journalism work (a counselor, professor, etc.)

Work samples (in PDF, JPG or link formats)

You will also have to answer ONE of three essay questions.