A young sports broadcast journalist who has less than three years of professional experience will receive $2,000 to support their career pursuits in honor of Michael Kim, the godfather of AAJA's Sports Task Force and a pioneer for Asian Americans in sports broadcast journalism. The scholarship is made possible thanks to the Sports Task Force and a yearly donation by Michael Kim.
Applicants will be selected on the basis of demonstrated journalistic ability, financial need, a strong commitment to the pursuit of a sports journalism career and dedication to AAJA's mission of advancing Asian Americans and other underrepresented communities in media.
Applicants must be an active AAJA member
Applicants must work in the broadcast sports industry in some form, either as on-camera talent or behind-the-scenes producer
Applicants must be within three years of college graduation and/or in their first television market
Applicants must demonstrate financial need
The selected scholarship winner must commit to a minimum of five hours of volunteer work for the AAJA Sports Task Force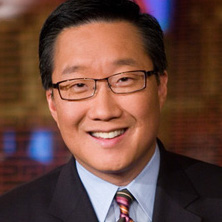 Michael Kim is a groundbreaking anchor who opened doors for the Asian community at the Worldwide Leader in Sports. Kim was an anchor at SportsCenter for 17 years and was one of the original anchors who launched the innovate ESPNNews.
Kim now works as the anchor of The Stadium on Marquee Sports Network. Prior to ESPN, Kim won a Sports Emmy Award for Outstanding Show – Daily. Kim is a graduate of the University of Missouri.
Kim has been a proud member of AAJA for years and is a Sports Task Force legend who has supported the group from its inception.
About The AAJA Sports Task Force
The AAJA Sports Task Force elevates the voices of Asian Americans in sports and encourages future Asian American sports journalists through mentorship and scholarship opportunities. At times, sports issues lead newscasts and make headlines across traditional news outlets. What is often lacking in this coverage, and sports journalism in general, is the perspective of Asian Americans. This AAJA Sports Task Force scholarship is one way to turn the tide. For more about the AAJA Sports Task Force, visit sportstaskforce.com.
Questions? Email support@aaja.org.
Scholarship Recipients and Press By Year

The Asian American Journalists Association is proud to announce our 2023 scholarship, internship, grant and fellowship winners. This year's recipients were chosen from a competitive selection of highly qualified candidates
Read More »
Discover other opportunities here.
Support our future AAPI journalists.