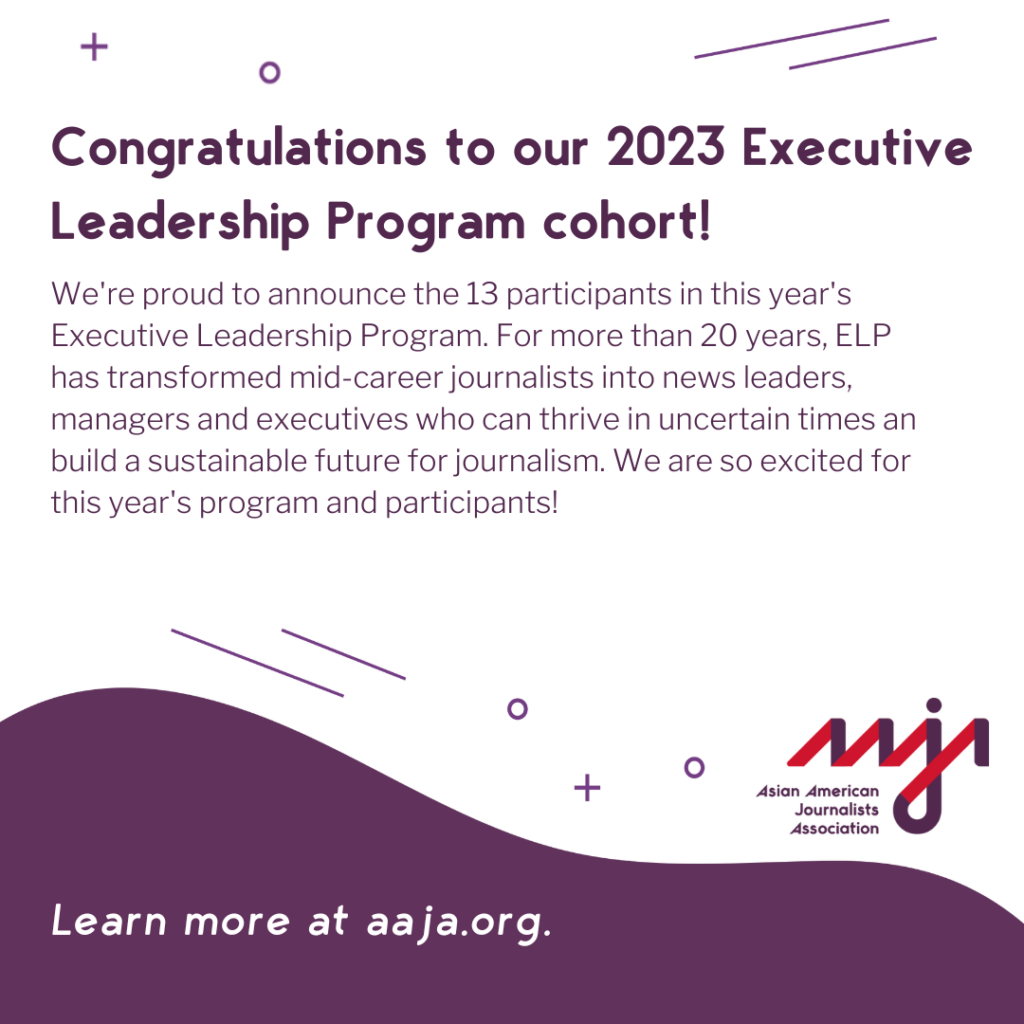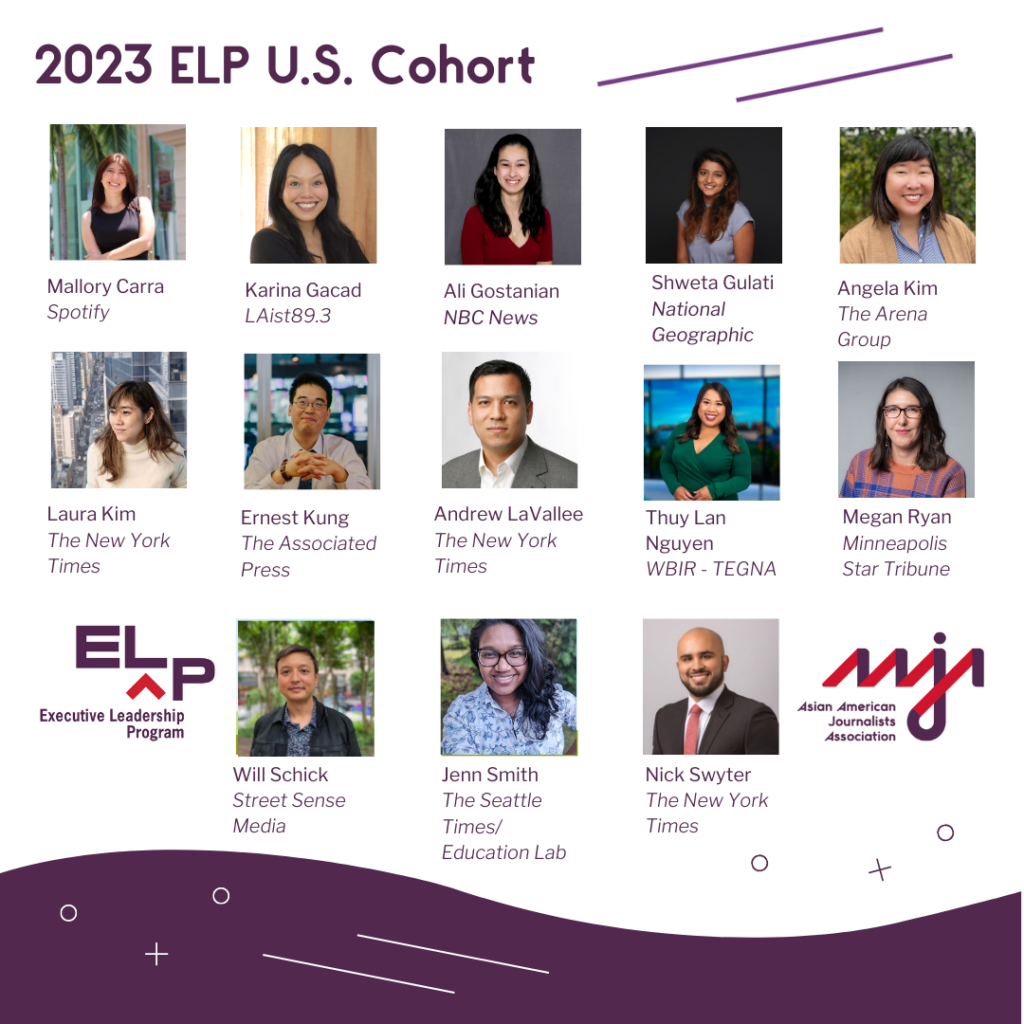 The Asian American Journalists Association is pleased to announce our 2023 U.S. Executive Leadership Program (ELP) cohort. After careful consideration, 13 mid-career journalists were selected to be part of this signature program. Through in-person and virtual sessions, they'll level up their management, leadership and professional development skills over the upcoming months. Their in-person closing session will take place at the #AAJA23 convention in Washington, D.C.
Our 2023 U.S. ELP co-leads are Ashley Alvarado, Vice President of Community Engagement and Strategic Initiatives at Southern California Public Radio (KPCC + LAist); Sharon Chan, Deputy for the Culture & Careers team at The New York Times; Paul Cheung, CEO of The Center for Public Integrity and Katie Nelson, a journalist and editor who currently works for Apple.
INTRODUCING THE 2023 U.S. ELP COHORT
Mallory Carra, Associate Content Writer, Parcast at Spotify
Karina Gacad, Morning Editor at LAist89.3 (KPCC)
Ali Gostanian, Senior Reporter/Weekend Manager, Social Newsgathering at NBC News
Shweta Gulati, Video Producer and Editor at National Geographic
Angela Kim, Director of Audience at The Arena Group
Laura Kim, Deputy, NYT Audio at The New York Times
Ernest Kung, AI Product Manager at The Associated Press
Andrew LaVallee, Arts & Leisure editor at The New York Times
Thuy Lan Nguyen, Assistant News Director at WBIR – TEGNA
Megan Ryan, Team leader, Business Department at Minneapolis Star Tribune
Will Schick, Editor-in-Chief at Street Sense Media
Jenn Smith, Engagement reporter at The Seattle Times/Education Lab
Nick Swyter, Program Manager, Philanthropic Partnerships at The New York Times
ABOUT ELP
The Executive Leadership Program (ELP) is our signature program that trains the next executive leaders in newsrooms. It is a challenging, practical and life-changing experience for professional journalists interested in advancing their career and developing the skills to achieve their professional and personal goals. It is not a business-as-usual program about how to become a better manager; it is a transformational experience program aimed at developing the next generation of diverse journalism leaders who can lead in uncertain times and build a sustainable future for journalism.
The program explores the responsibilities and challenges of a media workplace, how to lead in the changing landscape and how cultural values come into play. Experienced career coaches and senior news executives lead participants as they explore a variety of topics in a small, nurturing environment. Learn more about ELP here. If you reside in Asia, please go here for the Asia ELP program. The application deadline for ELP Asia is May 8, 2023.
ABOUT AAJA'S PROGRAMS
AAJA's programs and initiatives are central to our efforts to educate, connect and support our members. Through early education, mentorship, professional development and visibility we promote greater inclusion and opportunity for our community. With strong alumni activity, our industry standard setting programs forge life-long relationships and our initiatives highlight the best of the best.