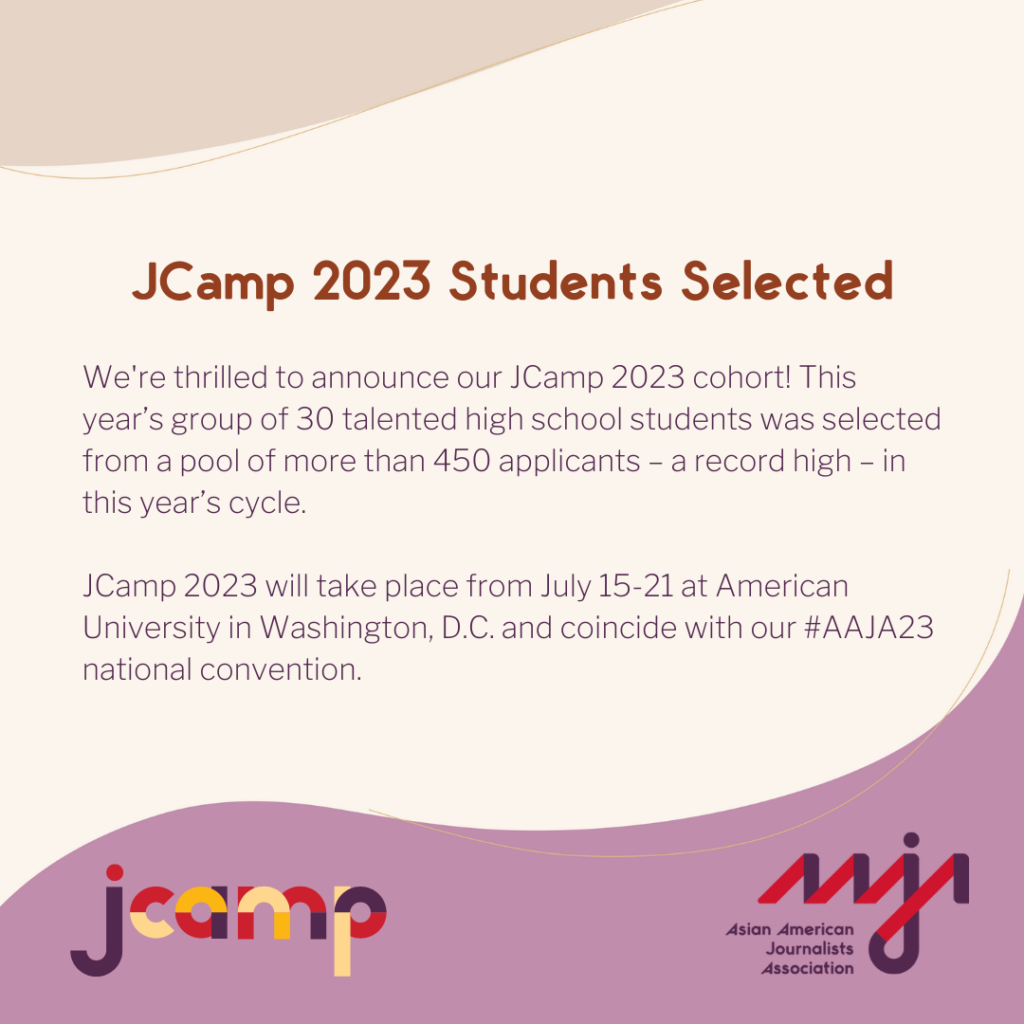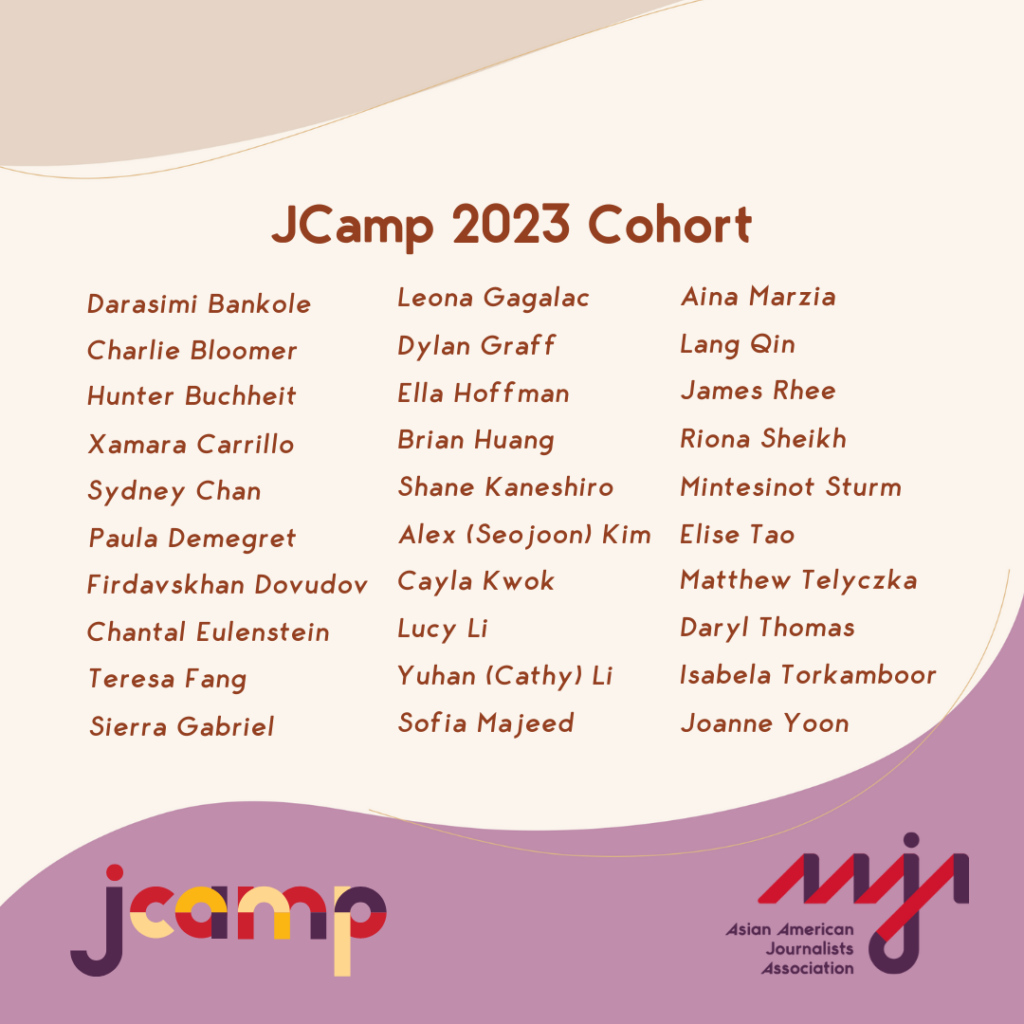 WASHINGTON, D.C. – The Asian American Journalists Association (AAJA) is thrilled to announce its JCamp 2023 cohort. This year's group of 30 talented high school students was selected from a pool of more than 450 applicants – a record high – in this year's cycle.
JCamp 2023 will take place from July 15-21 at American University in Washington, D.C. Students will be able to attend the camp at no cost to their families, thanks in large part to the support of generous donors such as the Annie E. Casey Foundation, Bloomberg Philanthropies and other dedicated sponsors.
More than 800 students have graduated from JCamp since the inaugural program in 2001. Professional journalists serve as faculty mentors throughout the week and provide students with hands-on training in writing, reporting, photography, broadcast and online media. JCamp instruction prioritizes the program's core values: The importance of diversity in the newsroom and in media coverage; the value of cross-cultural communication skills, networking and media ethics; and the fundamentals of leadership, inclusion and collaboration.
"Every year, the applications grow stronger and the selection process more intense," said Arelis Hernández, JCamp co-director. "But it reflects a growing pool of talent, passion and interest in a profession critical to the safeguarding of our democracy. Judging by the incredible applications, our future is in good hands."
Hernández, a Texas border correspondent at The Washington Post and a 2004 JCamp graduate, returns as the program's co-director alongside Ben Bartenstein, Middle East correspondent at Bloomberg News and 2011 JCamp graduate; Timmy Huynh, operations director and photo editor at The Wall Street Journal and 2005 JCamp graduate; Julia M. Chan, Special Projects producer at CNN and 2003 JCamp graduate; and Waliya Lari, AAJA director of programs and partnerships.
JCamp 2023 will coincide with AAJA's National Convention, held July 19 to 23 in Washington, D.C.
AAJA is proud to accept the following students to JCamp 2023: 
Darasimi Bankole – Winston, Georgia (Douglas County High School)
Charlie Bloomer – Sandy, Oregon (Sandy High School)
Hunter Buchheit – Atlanta, Georgia (Walton High School)
Xamara Carrillo – Redwood City, California (Woodside High School)
Sydney Chan – La Jolla, California (The Bishop's School)
Paula Demegret – Springfield, Virginia (West Springfield High School)
Firdavskhan Dovudov – Hickory Hills, Illinois (Amos Alonzo Stagg High School)
Chantal Eulenstein – Ames, Iowa (Ames High School)
Teresa Fang – Chapel Hill, North Carolina (East Chapel Hill High School)
Sierra Gabriel – Putnam Valley, New York (Putnam Valley High School)
Leona Gagalac – Freehold, New Jersey (Freehold Township High School)
Dylan Graff – Santa Monica, California (Harvard-Westlake)
Ella Hoffman – Jackson Heights, New York (Baccalaureate School for Global Education)
Brian Huang – Boston, Massachusetts (Boston Latin School)
Shane Kaneshiro – Honolulu, Hawaii (President William McKinley High School)
Alex (Seojoon) Kim – Stillwater, Oklahoma (Stillwater High School)
Cayla Kwok – Arlington, Massachusetts (Arlington High School)
Lucy Li – Palo Alto, California (Palo Alto Senior High School)
Yuhan (Cathy) Li – Walnut, California  (Walnut High School)
Sofia Majeed – Walnut, California (Walnut High School)
Aina Marzia – El Paso, Texas (Young Women's STEAM Research and Preparatory Academy)
Lang Qin – Rowland Heights, California (Walnut High School)
James Rhee – Atlanta, Georgia (The Westminster Schools)
Riona Sheikh – Clarksburg, Maryland (Richard Montgomery High School)
Mintesinot Sturm – Saint Paul, Minnesota (Open World Learning Community)
Elise Tao – Upper Saddle River, New Jersey (Academy of the Holy Angels)
Matthew Telyczka – Somerset, New Jersey (Rutgers Preparatory School)
Daryl Thomas – Montgomery, Alabama (Booker T. Washington Magnet High School)
Isabela Torkamboor – Great Falls, Virginia (Langley High School)
Joanne Yoon – Ellicott City, Maryland (Centennial High School)
XXX
Media Contact:
Waliya Lari, Director of Programs and Partnerships, AAJA
Email: waliyal@aaja.org