The Asian American Journalists Association annual convention brought together more than 1,500 people in Washington, DC, in July, for programming, training, and social events that underlined how much Asian American and Pacific Islander journalists contribute to the field, their communities, and the nation's multicultural democracy.
With the theme of "Building Our Collective Power," AAJA23 was sold out a month before it opened on July 19th. As with all journalism conferences, it was heavy on professional development, but unlike past decades, where journalists were expected to leave their cultures at the newsroom door and adhere to an inherited standard of "objectivity," speakers acknowledged that cultural competency leads to better, more inclusive reporting.
"It's great to see young journalists who are proud to be members of their community," said Helen Zia, founder of the Vincent Chin Institute, named for the victim of a 1982 hate crime that further fueled the Asian American civil rights movement.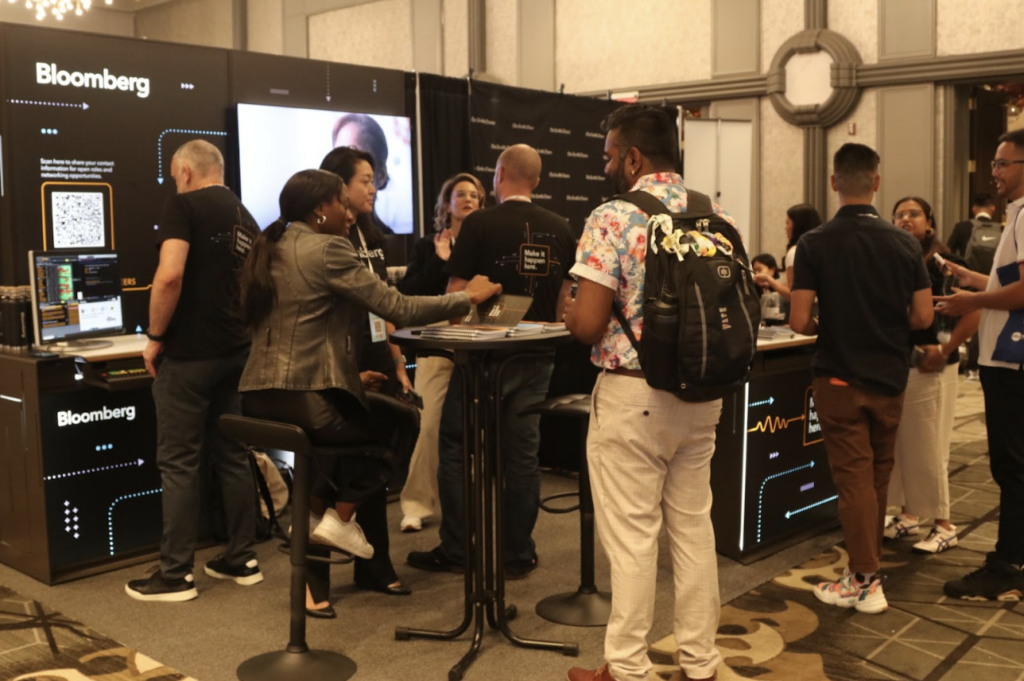 Exhibitors included ABC News, ESPN, Bloomberg, and others. Photo: Shirley Ng for AAJA
The exhibit hall was packed with name-brand news organizations looking to recruit diverse talent, while sponsors such as ABC News, ESPN, The Associated Press, AXIOS, and Bloomberg were prominently represented across the conference space. Their enthusiasm contrasted with the lack of cooperation AAJA received from local TV news stations when it did a national survey of Asian American Pacific Islander on-air representation in 2022. 
At the same time, AAJA threw its support behind the burgeoning nonprofit news movement, convening a nonprofit executives roundtable that brought together close to 50 journalism practitioners and funders in a gathering supported by the MacArthur Foundation. 
Participants tackled challenges and opportunities in nonprofit news, such as how to support community-centered news outlets at scale. They saw value in systematically sharing journalism and business tools across the field, looking for opportunities to unify back-office operations, and bringing new funders into journalism by showing how news is essential to advance their priority issues.
At another table, participants discussed misinformation targeting communities of color and how first-generation immigrants with language barriers were particularly susceptible. The conversation turned to how much journalism now relies on trust, not on facts alone, making diverse newsrooms important.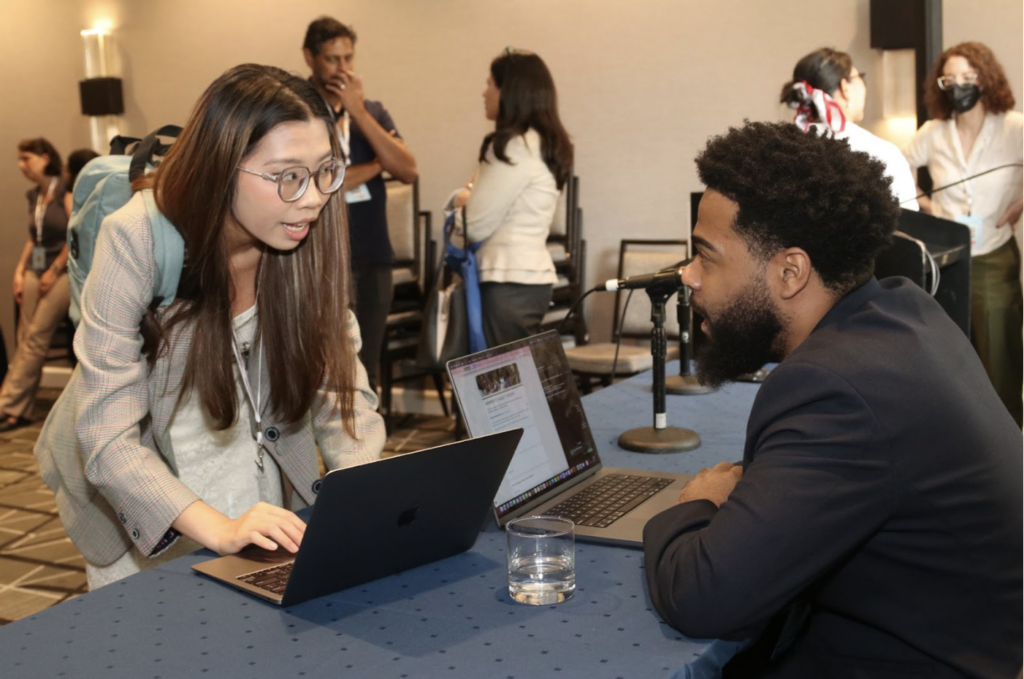 Following up on a panel discussion. Photo: Shirley Ng for AAJA
Professional development sessions were packed, with hot topics like "AI in the Newsroom" spilling out into the hallways of the Capital Hilton. Almost as full was a session about reporting on China with veteran journalists from the New York Times, Politico, and the Washington Post. Participants heard about the importance of sober coverage that neither sensationalizes nor dismisses the conflicting interests of the United States and China. 
The implications echoed elsewhere in the conference, where panelists cautioned that the growing tension between the U.S. and China could trigger another wave of anti-Asian violence.
The Luce Foundation sponsored several panels, carrying on a journalistic tradition forged by Teddy White, who covered the Chinese Revolution for Henry Luce's Time Magazine in the 1940s. The American Medical Association sponsored a public health disinformation panel, and the Kellogg Foundation supported a panel on Asian Americans advancing racial equity.
The convention offered more than journalism, celebrating AAPI journalists as the multidimensional humans they are. The opening reception featured dishes from several of the best AAPI restaurants in DC. The event featured chefs recruited by Danny Lee, who started the restaurants Mandu, Anju, and Chiko. Books by AAJA members were showcased during the convention. And one breakfast session featured AAJA "OGs" talking about their trailblazing careers in journalism and beyond.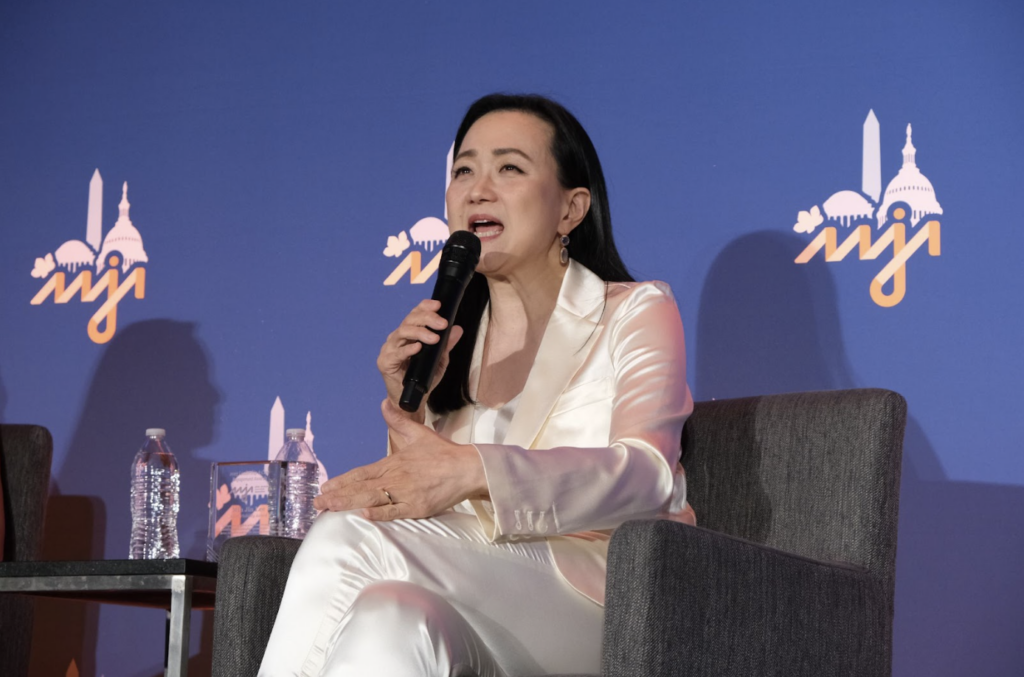 Author Min Jin Lee, AAJA Visibility Award winner Photo: Sangsuk Sylvia Kang for AAJA
Author Min Jin Lee, the winner of AAJA's inaugural Visibility Award, spoke with AAJA board president and Washington Post investigative reporter Nicole Dungca during gala. Lee's award-winning novel Pachinko traces generations of a Korean family living through Japan's occupation of Korea and waves of migration to Japan and the United States. She has been a powerful voice against anti-Asian violence in the U.S. and has spoken about the different challenges facing generations of immigrant families. In a conversation punctuated by both tears and laughter, Lee spoke about the importance of speaking up and being seen.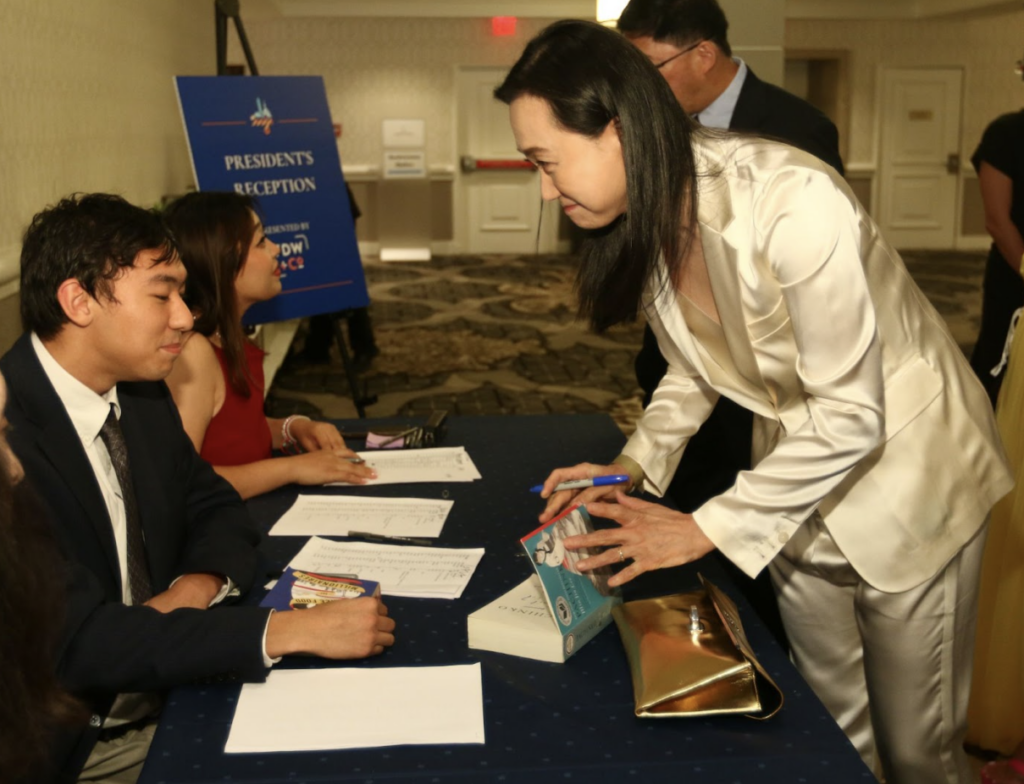 Min Jin Lee signs AAJA intern Gordon Shi's book. Photo: Darrell Miho for AAJA
Both the AAJA Community Awards winners, such as Lee and the AAJA Journalism Excellence Awards winners, were celebrated at the gala. Jin Ding, AAJA's vice president of finance and a key organizer of the convention and nonprofit roundtable, was named Member of the Year, underlining how AAJA board members work hands-on to run the organization, in the process gaining management experience they need to advance their careers.
The Journalism Excellence Awards spotlighted several examples of impact reporting by AAJA members for major outlets, as well as stories likely to have gone untold without the cultural competency of AAPI journalists. 
Support for the next generation of Asian American journalists abounded. AAJA Voices, a fellowship program for college journalists, concluded with the publication of 10 student stories, finalized in workshops with volunteer mentors on the eve of the convention. Numerous conference sessions were tailored for early-career journalists, often with the support of Yung AAJA, the affinity group.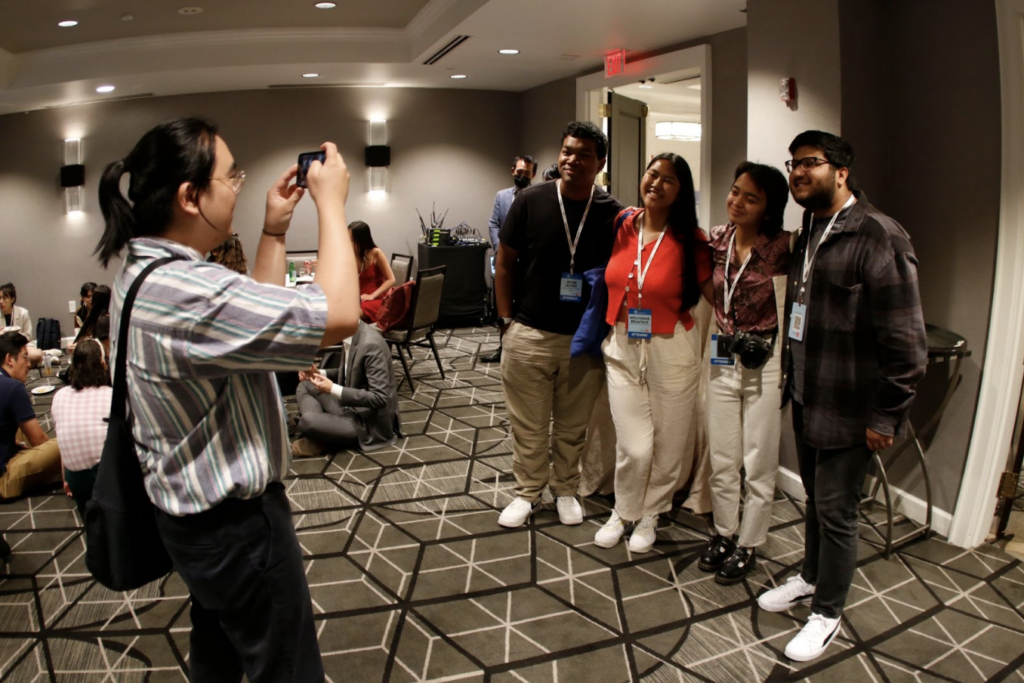 AAJA Voices fellows after hitting "publish." Photo: AAJA
AAJA24 will be in Austin, Texas, where AAJA hosted a preliminary community-building event earlier this year. It will be an opportunity to support local journalists and amplify the stories they tell, including about the state's treatment of women, migrants, and marginalized groups. Texas is already a majority-minority state, with the nation's third-largest number of AAPI residents.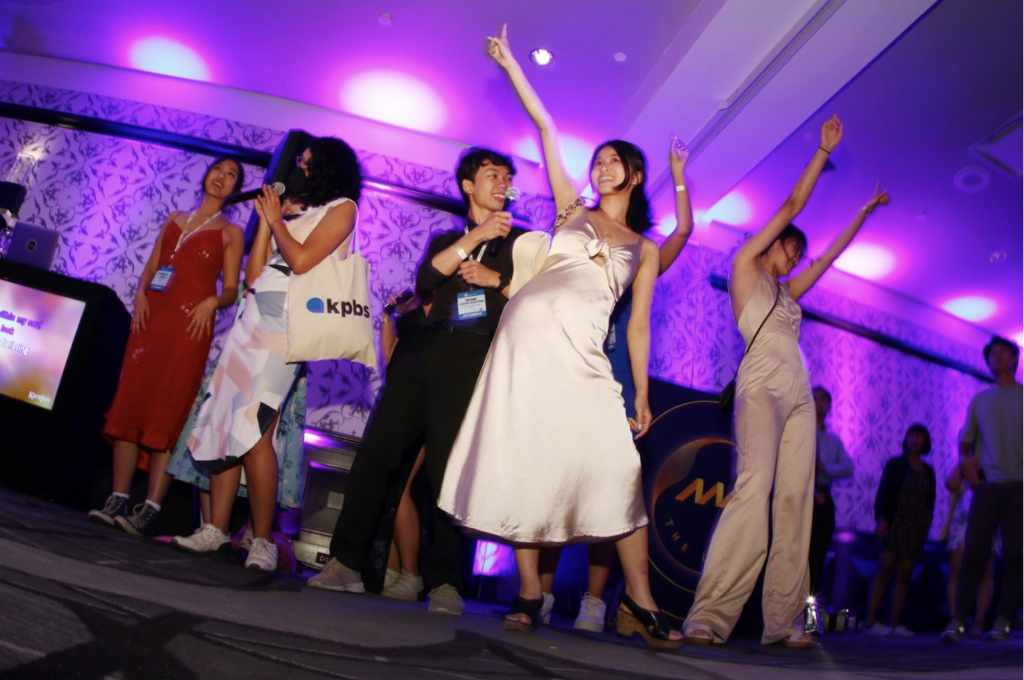 See you next year in Austin! Photo: Darrell Miho for AAJA
(Lead photo: DC morning fun run. Credit AAJA DC Chapter)