The Asian American Journalists Association Pacific Islander Task Force and the Indigenous Journalists Association (IJA) are excited to announce the recipients of the second annual IJA-AAJA Pacific Islander Journalism Scholarship.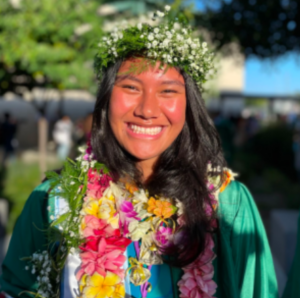 Hope Jane Saena (she/her/hers) is an incoming freshman at Santa Clara University, pursuing a degree in environmental studies and journalism. She is dedicated to shining a light upon voices of color and has done so through her work with Climate Resilient Communities. Deeply rooted in her Samoan heritage, Saena is proud to share her experiences as a Pacific Islander.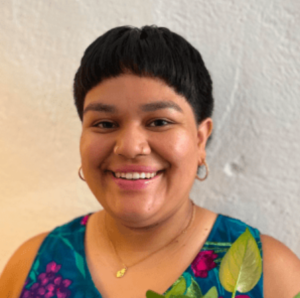 Kanani Cortez (she/her/hers) is a Chamoru-Salvadoran journalist in Portland, OR. She has covered a range of topics, from the impact of COVID-19 on Pacific Islander communities to the removal of Native American mascots and more. Cortez is the editorial producer at Street Roots, where she manages the publication's social media, digital publishing and newspaper design. She is a graduate of Portland Community College. Cortez is now pursuing graphic design at Portland State University this fall, hoping to use graphic design to bolster and broaden her journalism practice.
Each recipient will receive $5,000 to support their journalism careers. The money can be used for tuition, student loans, or other journalism professional development and training.
The IJA-AAJA Pacific Islander Journalism Scholarship was launched in 2022 with support from The Omidyar Group and is administered by the Indigenous Journalists Association.
It was created in partnership with the Indigenous Journalists Association as part of the group's commitment to supporting Pacific Islanders in journalism.
The funding is intended to help Indigenous peoples of the Pacific, including Polynesians, Micronesians and Melanesians, pursue careers in journalism, especially in the U.S. and U.S.-affiliated Pacific islands. The goal is to improve Oceania representation and storytelling in the news media industry.
To support the journalism fund, or learn about how to apply in 2024, contact Sheena Roetman at sroetman@naja.com. The Indigenous Journalists Association is a 501(c)3 nonprofit and donations are tax-deductible.
About the Asian American Journalists Association
The Asian American Journalists Association is a professional membership association founded in 1981. Since its founding, AAJA has been at the forefront of change in the journalism industry, advocating for accurate, comprehensive and fair coverage of the AAPI community. We champion the development of AAPI representation and leadership in journalism through trainings, opportunities and resources for our members as well as through nurturing and maintaining a network and community of AAPI journalists globally. Learn more at www.aaja.org or follow us on Twitter @AAJA.
About the Indigenous Journalists Association
The Indigenous Journalists Association serves more than 850 members, including media professionals working in Indigenous, freelance, independent, and mainstream news outlets, as well as academia and students covering Indigenous communities and representing Indigenous peoples from across the world. IJA serves and empowers Indigenous journalists through programs and actions designed to enrich journalism and promote Indigenous cultures.