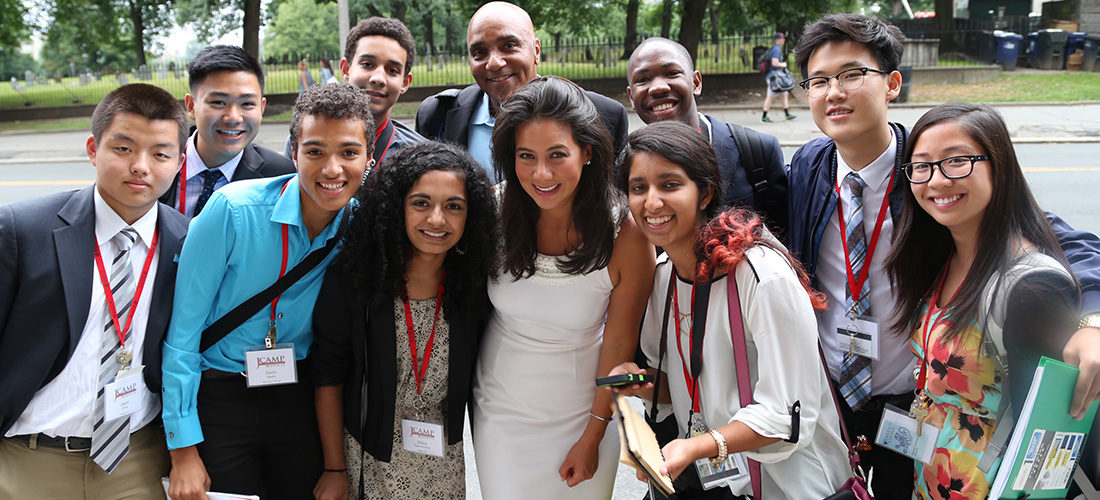 AAJA's JCamp is a national multicultural journalism program for high school students.
The six-day training camp brings together culturally diverse students from across the nation to learn from veteran journalists and leading media executives. JCamp participants will receive hands-on training and produce multiplatform news packages for the program's news site, JCamp Live. Since 2001, over 700 high school students have graduated from JCamp. Every year, AAJA receives hundreds of applications from all regions of the country.
The world is in an uncertain place and after having made the tough decision to cancel JCamp 2020, we are happy to announce that we will be holding JCamp 2021 virtually for our original cohort that was selected in early 2020. Though we would have liked to hold an in-person camp experience this summer, we simply cannot given the ongoing pandemic as the health and safety of our student storytellers and staff is of the utmost importance. We are excited to have our new class join our faculty of award-winning reporters and editors in 2021. 
To those hoping to apply and participate in JCamp 2021, we can imagine your disappointment. We, too, are devastated. Please keep writing, keep reporting, keep broadcasting, keep filming and keep asking questions. Now, more than ever, our communities need you to grow into truth-seeking, ethical and diversity-minded journalists who can hold power to account, amplify forgotten voices and protect our democracy.
Go forth and we hope to see you at JCamp 2022,
Arelis, Ben and Timmy
JCamp Directors
Changing the Face of Media
JCamp was started in 2001 as a response to the industry's diversity crisis. The program is designed to help assure excellence in the profession for decades to come and to confront the lack of diversity in journalism, not just in race, but also in matters of religious background, political background and other factors. Since the program began, hundreds of the nation's most talented teenagers have graduated. Early surveys of JCamp students indicated that approximately 75% went on to pursue journalism in college.

With a multicultural team, media get more accurate perspectives on stories of Latinos, African Americans, Asian American and Pacific Islanders, and Middle Eastern Americans.
With a diverse team, readers and viewers get different views on city governments, local communities, business, entertainment and recreation, science and medicine, and national and international issues.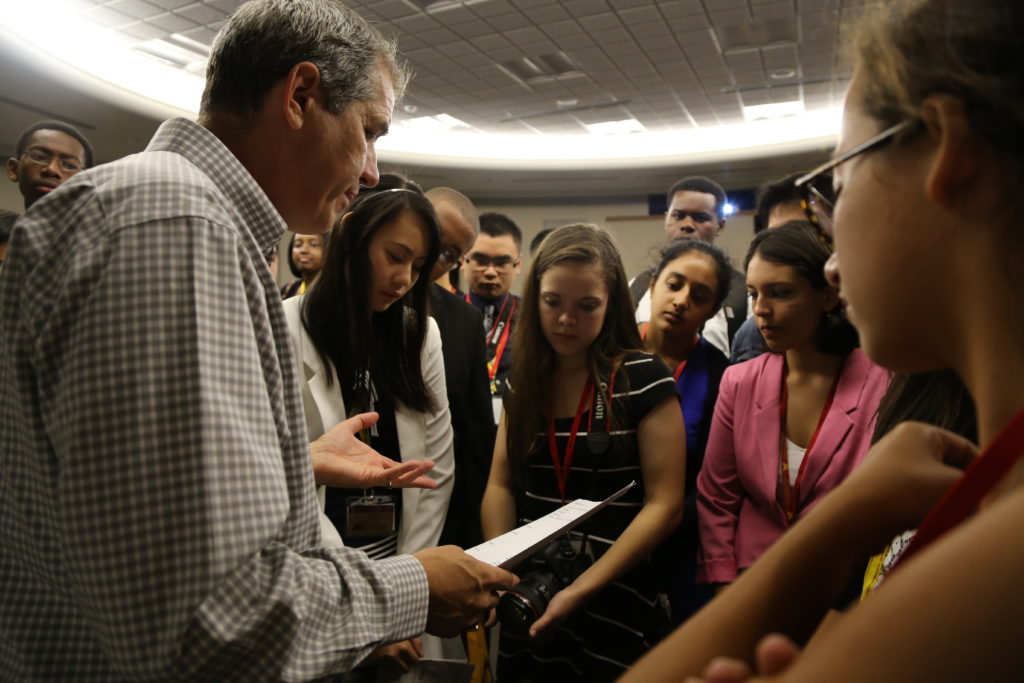 AAJA's JCamp is a national multicultural journalism program for high school students. The six-day training camp brings together culturally diverse students from across the nation to learn from veteran journalists and leading media executives. JCamp participants will receive hands-on training and produce multiplatform news packages for the program's news site, JCamp Live.
JCamp's goal is to develop the next generation of journalists. This six-day training camp brings together a multicultural group of high school students from across the nation to sharpen their journalism skills and work together in a unique learning environment. The curriculum consists of interactive workshops, hands-on training and field trips.
Selected students demonstrate a keen interest in broadcasting, newspaper, magazine, photojournalism or online media. This program is not limited to Asian American students, but to all high school freshmen, sophomores and juniors. There is no fee to apply and all costs are covered — including airfare, lodging and meals. Students stay in university housing during the camp week.
JCamp strives to confront the lack of diversity in journalism, in regards to race, socioeconomics, geography, religion, sexual orientation and identity. The camp strives to ensure excellence in the profession for decades to come. Through this culture of excellence and diversification, JCamp cultivates the voices and views of our future media leaders on government, human interest, entertainment, recreation, science, medicine, and national and international news.
The curriculum focuses on teaching and ingraining the following core principles:
The Value of Cross-Cultural Communication Skills
This heightened awareness comes from interactions with peers and mentors from completely different environments and backgrounds, along with training in the basics of effective interpersonal skills and the importance of creating inclusive environments as colleagues and journalists.
The Fundamentals of Leadership
Faculty work with students on persuasive communication skills, teamwork, professionalism, project management, developing a personal identity and accountability.
The Importance of Diversity in the Newsroom and in Media Coverage
JCamp fosters an appreciation for diverse viewpoints and reporting in diverse communities. Students also learn why it is important that media outlets reflect the communities they cover.
Strong Ethics in Journalism Practice
Students gain an understanding of the universal ethics of good journalism and the responsibilities of the media to cover communities with sensitivity and high standards.
The Value of Networking & Career Mapping
Regardless of a student's eventual career choice, each will go home with an understanding of how to pursue a profession and an appreciation for the importance of networking and building relationships with mentors and peers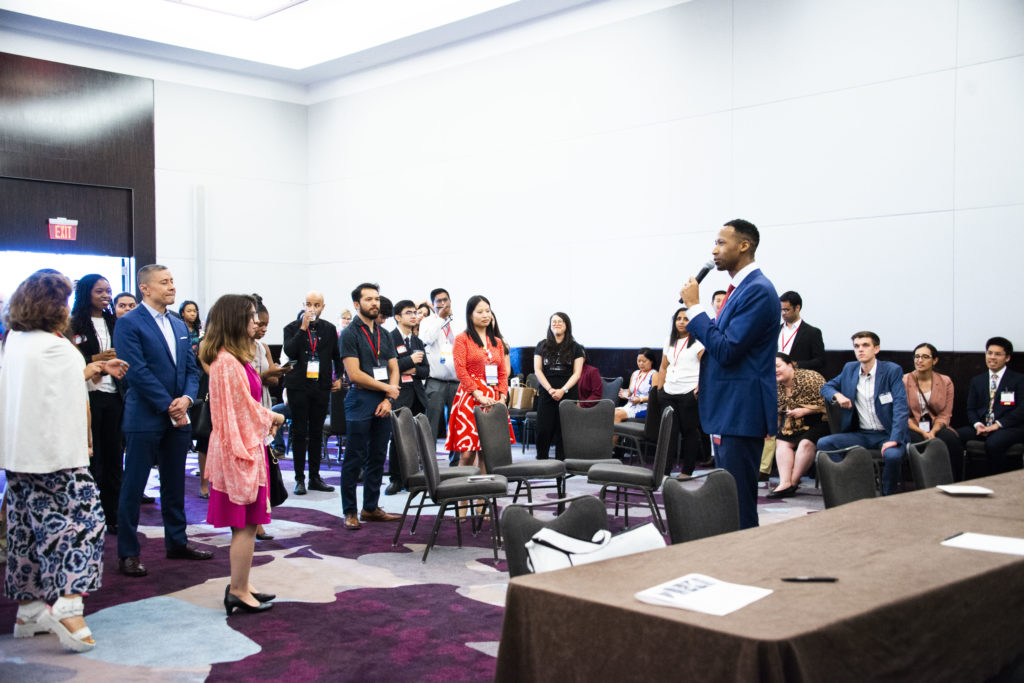 JCamp speakers have included Hoda Kotb, co-host of NBC's "Today Show;" Arthur Sulzberger, Jr., former publisher of The New York Times; Chuck Todd, host of "Meet the Press;" Bob Schieffer, former CBS News' "Face the Nation" moderator; Jill Abramson, former executive editor of the New York Times; Touré, former co-host of "The Cycle" and author of "Who's Afraid of Post-Blackness?"; Bill Whitaker, CBS News' "60 Minutes" correspondent; Cheryl Diaz Meyer, Pulitzer Prize-winning war photographer; Kevin Merida, senior vice president of ESPN and editor-in-chief of "The Undefeated;" and the late Gwen Ifill, host of "Washington Week" and "PBS NewsHour."
Since the first JCamp in 2001, more than 700 of the nation's brightest young people have graduated from JCamp. Some of the graduates of JCamp have gone on to become professional journalists. A few of these alumni include:
Terrell Brown, JCamp 2002: After attending JCamp, Brown was awarded a full scholarship for broadcasting excellence by the National Press Club. In 2009, at age 22, Brown was named a CBS News correspondent — the youngest in that network's history.


Jessica Carballo, JCamp 2004: Carballo won the Sun-Sentinel Correspondent of the Year Award, the Sun-Sentinel scholarship upon high school graduation, and she was the Miami Herald Silver Knight Winner in Journalism. She worked as an ABC production intern at WPLG-TV in Miami and is a 2010 graduate of Yale University.


Arelis Hernandez, JCamp 2004: Hernandez graduated in 2009 from the University of Maryland, majoring in broadcast journalism. During her senior year at the university, Hernandez was named to the select list of the Top 100 Student Journalists in the country. She is now a political reporter for The Washington Post and a JCamp co-director.
Hailey Lee, JCamp 2009: Lee studied at Wellesley College and founded WCTV, the school's satire news show. She interned at Crain's Chicago Business before being hired permanently at CNBC. She is now an economics producer and has served as a board member for UNITY: Journalists for Diversity.


Taylor Turner, JCamp 2010: Turner studied broadcast journalism and political communications at The University of Texas at Austin while also interning at ESPN and participating as a video journalist for The New York Times' Student Journalism Institute in 2015. Turner worked as a production associate at ABC News before her current position as a video editor at The Washington Post.


Ben Bartenstein, JCamp 2011: Bartenstein graduated from Macalester College in 2015 and also participated in AAJA's VOICES journalism training program for college students. He is now an emerging markets reporter for Bloomberg in Peru and a JCamp mentor.
High school freshman, sophomores, and seniors with a strong interest in broadcasting, newspapers, magazines, photojournalism or online media are encouraged to apply. 
Students selected for the program have all costs covered including airfare, campus housing and meals.
The JCamp 2021 program faces a unique challenge with the COVID-19 pandemic. In light of the uncertainty, the JCamp program is currently being redeveloped and details will be posted soon.
AAJA welcomes donations to its student and professional programs throughout the year. Your donation to the JCamp program will go a long way toward helping the students produce quality work and gain valuable newsroom experience in 2021!
Latest News & Information

News
WASHINGTON, D.C. – The Asian American Journalists Association (AAJA) is thrilled to announce its JCamp 2023 cohort. This year's group of 30 talented high school students was selected from a
Read More »