The blog aims to explore and celebrate what defines rising and established AAPI journalists.
The Asian American Journalists Association is excited to announce our new blog, AAJA Defined, a platform dedicated to uplifting the stories of our #AAJAFamily and empowering them to continuously define and redefine themselves. 
Defined officially launches today, October 29, beginning with a feature of Clare Lynne Ramirez, art director and designer at Washington Post Magazine, celebrating the end to Filipino American History Month. Read this first piece to learn about what goes behind her design process, and look out for more articles in the months to come! 
Through monthly pieces, Defined will be a space beyond our newsletter to highlight our membership. AAJA Defined aims to showcase the different faces of our #AAJAFamily, made up of AAPI journalists, media professionals and our allies — redefining journalism in inclusive, expansive and visionary ways. We'll ask about the work they do, how they do it, their life paths and lived experiences, and simply, themselves, in their full humanity, like a friend you're catching up with over a quick hot beverage. 
With bite-sized glimpses into their lives and work, we hope these stories connect the dots of Asian Pacific America, showing the depth and breadth of the community members who are doing the work of shaping narratives about AAPIs in media and journalism.
This is just the ambitious beginning led by a small but mighty AAJA communications team, who have wanted to create this homecoming space for AAJA since our earliest days of existence. Our masthead consists of director of communications Jessica Xiao, digital engagement coordinator Sofia Koyama, programs and communications coordinator Daniella Ignacio and communications intern Yi-Shen Loo. Former interns Wesley Chen and Alice Nguyen were also pivotal to the initial development of the blog's concept during their time with AAJA; we'll be publishing a piece by Wesley, as well. 
In these beginning days, through member profiles, we're introducing ourselves—the people of #AAJAFamily—to anyone curious about AAPI identity or journalism, to the journalists who admire the work of their peers, to the industry elders who keep their fingers on the pulse. 
Then, we'll start to grapple with unpacking the stories we want to tell, the questions that motivate us, and the values that we struggle with – and that ultimately unite us. 
Eventually, we'll be your hub on how to navigate the industry as a young AAPI, the source of conversations with leaders, advocates, and other folks you should know who activate our community, and a library of the editorial and style decisions behind stories that have sparked conversations. 
AAJA Defined is more accurately, AAJA Defining, as we keep evolving who we are, where we come from and where we're going. Come for the conversations, stay for the food for thought.
Contribute to AAJA Defined: 
Interested in writing for AAJA Defined? We're currently looking for Q+A pieces that spotlight our membership or alumni of our AAJA signature programs, media recommendations of pieces by the #AAJAFamily or AAPI journalists or conversations between AAJA mentors and mentees! We are also open to pitches that fall outside one of these categories, as long as the scope of the story pertains to AAJA's mission, its membership or AAPI journalism. To pitch, fill out this form. 
About AAJA: 
The Asian American Journalists Association is a professional membership association founded in 1981 by a group of AAPI journalists seeking to support one another and to encourage more AAPIs to pursue journalism. The heart of AAJA's four-fold mission is to increase AAPI perspectives and representation in newsrooms, media and storytelling. Today, we continue to champion the development of AAPI representation and leadership in journalism through trainings, opportunities and resources for our members as well as through nurturing and maintaining a network and community of AAPI journalists globally. Find out more about AAJA,  join our #AAJAFamily and support our work.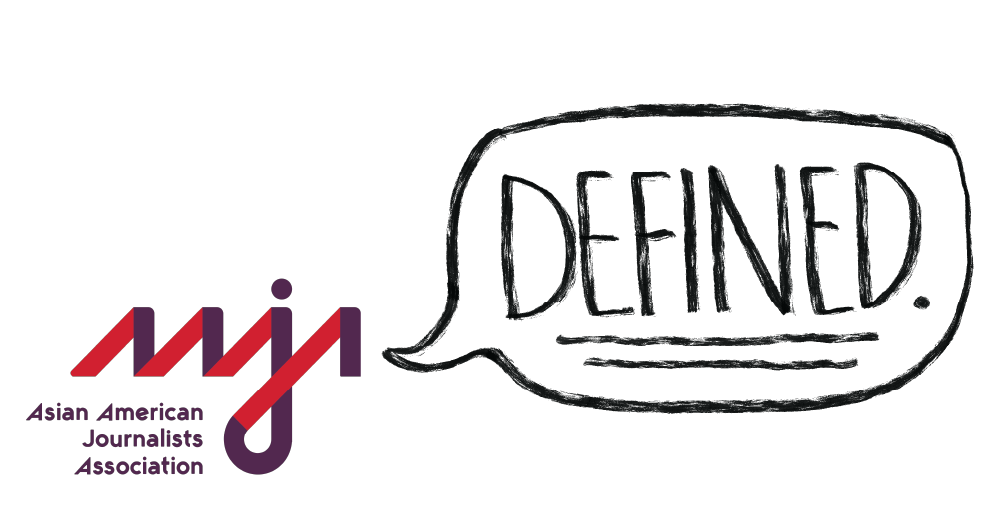 Read our blog on Medium. 
Interested in writing for AAJA Defined? To pitch us, fill out this Typeform application. 
Subscribe to our listserv for all AAJA Defined posts and updates.