Lead our signature program for entrepreneurs of color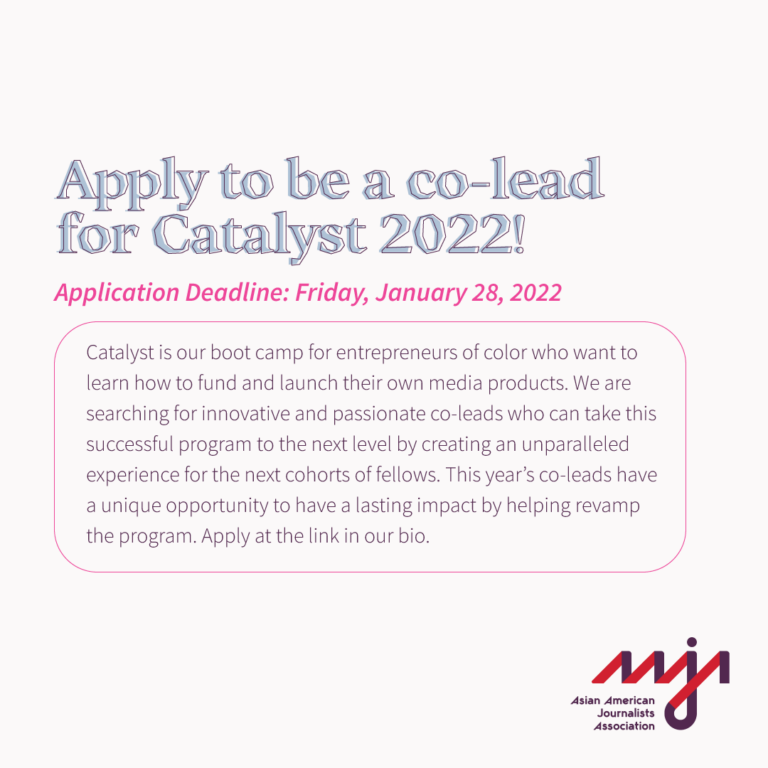 AAJA is searching for new co-leads for our signature program, Catalyst, in 2022. We are currently in the process of revamping the Catalyst program to better serve entrepreneurs of color as they confront new and ever-evolving challenges in the news, tech and business industries. We are searching for innovative and passionate co-leads who can take this successful program to the next level by creating an unparalleled experience for the next cohorts of fellows. 
This year's co-leads have a unique opportunity to have a lasting impact by helping to revamp the program. The term will last for two years, from 2022-2024. 
The time commitment for this position varies depending on the timeline of the program. The position requires a few hours of work a week, and that will significantly increase in the immediate weeks leading up to the program. Co-lead duties include: 
Planning and producing the bootcamp based on the successes and feedback from prior cohorts

Publicizing the program to recruit applicants

Choosing fellows

Creating programming for the boot camp 

Leading the boot camp and subsequent events for the cohort
To be considered for a co-lead position, apply here. Learn more information about the program here.
About Catalyst
Catalyst is a boot camp for entrepreneurs of color who want to learn how to fund and launch their own media products. Catalyst fellows are passionate about media and journalism and aspire to take their side hustles to the next level. This program includes workshops, speaker panels, and one-on-one mentoring sessions where fellows will learn how to:
Create a compelling pitch deck.

Get best practices on how to bring your product to market, measure the right metrics, and make your product financially sustainable.

Find out how venture capitalists evaluate founders and their startups.

Understand how the foundation grant-making process works.

Join a growing community of media investors, advisors, and founders of color.
About AAJA's Programs and Leadership
The Asian American Journalists Association (AAJA) is a membership nonprofit advocating for and advancing AAPIs in newsrooms and ensuring fair and accurate coverage of AAPI communities. AAJA's journalism programs and their leadership teams are constantly evolving and improving to meet these aspects of organization's priorities: 
Advance AAPI journalists by providing training, networking and career advancement opportunities and offering a culturally informed support system.

Prepare AAPI journalists to be news managers and media executives and create connections that build a pipeline to full top jobs as they become available..

Research and produce strategies to improve the accuracy and fairness of new coverage of AAPI communities and issues. 

Encourage, inform, advise, and financially assist AAPI students working towards becoming professional journalists.

Educate AAPI communities about news media, how to build relationships with newsrooms and how to gain fair access to news products and coverage.