Apply for internship, scholarship and fellowship opportunities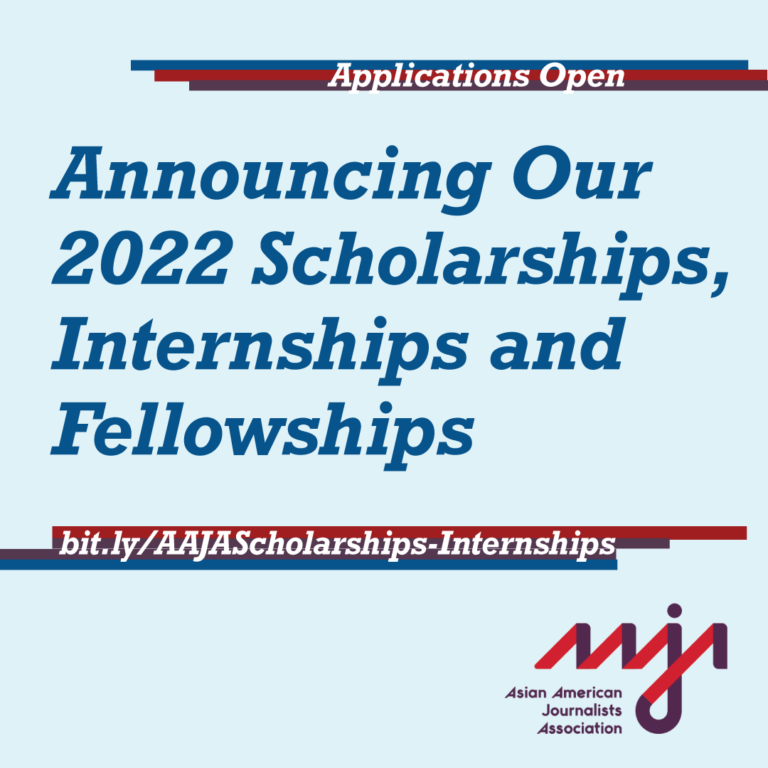 We're excited to open applications for AAJA's scholarships, internships and fellowships in the 2022-2023 academic year today! Find the opportunity that is right for you. 
To view all opportunities for internships, scholarships and fellowships, please visit our scholarships and internships page and read through carefully to ensure you are eligible, as we have made changes and edits to the descriptions, application deadlines and application requirements. Apply for all opportunities here. 
Most applications are due by February 28, 2022, but please check each individual opportunity for their exact deadline. AAJA Sports Task Force scholarships are due by January 31, 2022. Internship grants (Lloyd LaCuesta, Sam Chu Lin, Stanford Chen and William Woo) are due on April 8, 2022. All applications are due at 11:59 pm PST of the deadline date.
The scholarships and internships page will be updated as we receive more information regarding partner and other external opportunities. Stay tuned and continue to look out for further opportunities in the new year. 
Judge AAJA Scholarships
We are also still seeking judges for our scholarships judging committee. If you are interested in volunteer judging for AAJA scholarships, please fill out this form by Jan. 1, 2022. 
Questions?
We're excited to see your work and award outstanding young journalists through these opportunities! If you have any questions, reach out to support@aaja.org and one of our HQ team members will get back to you. 
ABOUT AAJA SCHOLARSHIPS: 
AAJA annually offers up to $20,000 in scholarships and grants to journalism students to help offset the costs of education, internships, living expenses and other opportunities. These scholarships are made possible by supporters such as AAJA members, allies and generous donors. 
Thank you to the following organizations and individuals for making AAJA scholarship opportunities possible. If you'd like to support AAJA scholarships, consider making a donation here.
ABC News

Al Young

Jennifer Azlant

Sewell Chan

Terence Chea

Amy Chen

Mae M. Cheng

Allen Cheng

Cynthia Chennault

Sei Chong

Judy Chu Lin

Linda Coburn

The Council for International Cooperation

Columbia Journalism School

Hannah Denham

Elizabeth Dierenfield

ESPN

Beth Erikson

Facebook Journalism Project 

Katharine Fong

Keerati Giratikanon

Vindu Goel

Joe Grimm

Tran Ha

Nancy Han
Cynthia Ho

Tuyen Hoang

Rosa Kim

Michael Kim

Roger Kuo

James Kwasnik

Lloyd LaCuesta

Nora Lyons

Regina

 

Mack

Bhart Manwani

NBC News

Elizabeth Roberts

Dorothy Russell

Matthew Russell

Benjamin Seto

Martha

 

Shirk

April Siruno

Hannah Tellambura

Enoch Tong

Michael Vance

Ani Vrabel

White House Correspondents Association

Esther F. Wu

Allie Yang

Don Yee
Discover other opportunities here.
Support our future AAPI journalists.