Lead one of AAJA's signature training programs for young journalists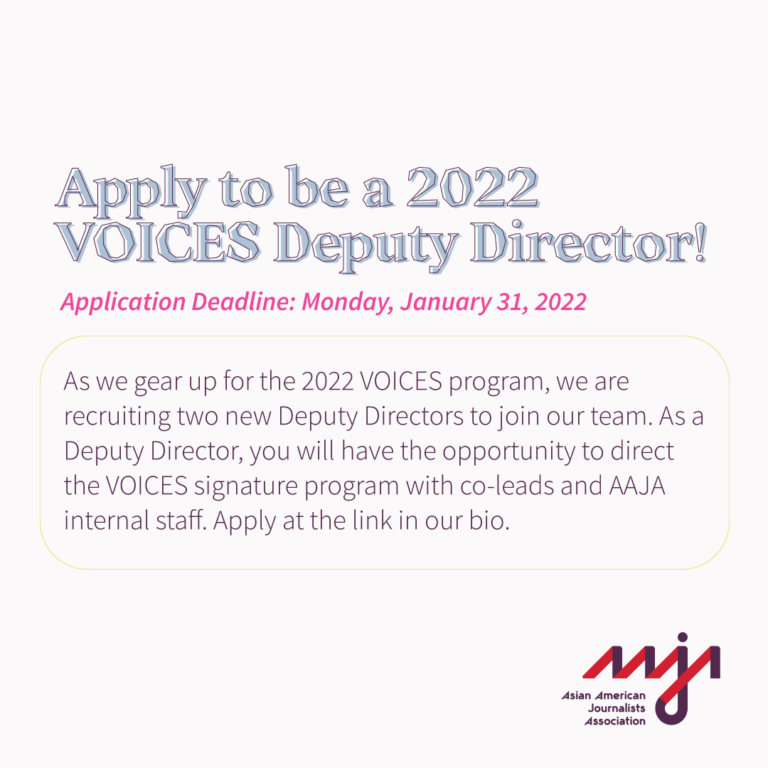 The Asian American Journalists Association (AAJA) is seeking two Deputy Directors for the 2022-2023 VOICES cohort. To apply to be a Deputy Director, please complete this Submittable form by January 31, 2022 at 11:59 p.m. EST. 
AAJA's VOICES program is a rare opportunity for college students to develop reporting and leadership skills under the tutelage of industry professionals. A cohort of 15-17 students participate in a series of trainings and leadership sessions that will include interactive online courses, and are assigned stories covering the journalism industry and AAPI communities. Finished works are then published on the Voices website.
As a Deputy Director, you will have the opportunity to direct the VOICES signature program with co-leads and AAJA internal staff with the following responsibilities: 
To mentor and guide Voices program participants on their summer projects.

To help organize and facilitate training and networking opportunities for Voices students.

To support Voices directors in other tasks related to carrying out the Voices program, including, but not limited to, application reviews, strategic planning, and outreach.

To provide encouragement, information, advice, and scholarship assistance to AAPI students who aspire to professional journalism careers.

To provide to the AAPI community an awareness of news media and an understanding of how to gain fair access.

To provide a means of association and support among Asian American and Pacific Islander (AAPI) journalists and advance AAPI journalists as news managers and media executives.

To research and point out when news media organizations stray from accuracy and fairness in the coverage of Asian Americans and Pacific Islanders and AAPI issues.
For more information on VOICES, please visit AAJA's website and the VOICES website. We will be releasing more information on the format and structure of the 2022 VOICES program in the New Year.