Apply for the chance to have your work honored by AAJA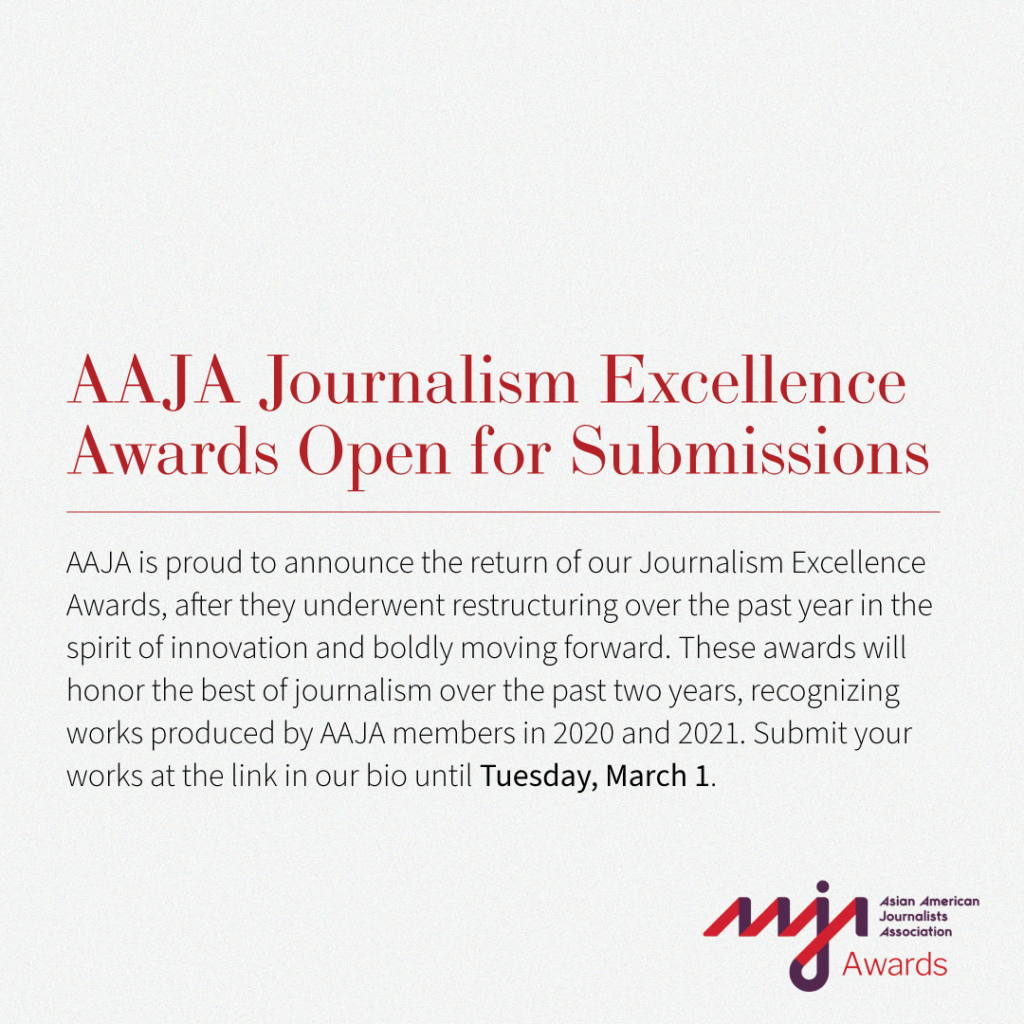 The Asian American Journalists Association is proud to announce the return of our Awards Program, after they underwent restructuring over the past year in the spirit of innovation and boldly moving forward. These awards will honor the best of journalism over the past two years, recognizing works produced by AAJA members in 2020 and 2021. To apply, visit our updated awards website. 
We've developed new categories to celebrate a rapidly changing journalism industry, and those whose works epitomize excellence and innovation. We've added awards for photojournalism, in the categories of Single Story, Photo Story and Student, created with AAJA's Photojournalists Affinity Group. The Dith Pran Photo Award, (which started in 2000 as the AAJA Photo Shootout) will continue to run with convention.
An entirely new category of Journalism Excellence Awards by Subject will elevate coverage coverage of beats and topics important to our communities, including Excellence in Pacific Islander Reporting, created with input from AAJA's Pacific Islander Task Force. Other categories are Investigative Reporting; Sports; Arts and Entertainment; Science, Environment & Health; Business/Consumer/Tech; International Reporting; Political Reporting; and Commentary/Op-Ed/Perspective.
We've eliminated the previous bifurcation of our awards as "General" and "AAPI Issue," because amplifying excellent storytelling, impactful work and accurate reporting that empowers narratives of the AAPI community is at the core of all AAJA awards.
In addition to the Journalism Excellence Awards, we've also developed new Community Awards (formerly Membership Awards), which we'll launch and share more about in February. Our new categories will continue to honor members of the AAJA community as well as community leadership.
We'd like to acknowledge our awards committee members who have worked tirelessly to bring these awards to reality. These members include: Jessica Xiao, Julia M. Chan, Sinduja Rangarajan, Nirvi Shah, Jin Ding, Ben Pu, Nicole Dungca, Alex Wong, Shirley Qiu, Vivian Toy, Naomi Tacuyan Underwood, Sofia Koyama, Esther Gim and Parul Hinzen. Thanks, in addition, to AAJA-HQ staff Angela Tang and Daniella Ignacio who have worked tirelessly to implement the new awards process.
Applications for Journalism Excellence Awards open today, Wednesday, January 26, 2022. The deadline for all applications is Tuesday, March 1, 2022. There are different forms for works produced in 2020 and works produced in 2021 – we encourage submitters to make sure they are using the correct submission form. 
If you have any questions about our 2021-2022 awards, we will have an FAQ on the awards website soon. If your question isn't answered, reach out to support@aaja.org for further assistance. We're excited to see your work! 
About AAJA Awards: 
The Asian American Journalists Association has honored excellence in journalism since 1987. The AAJA Journalism Excellence Awards are bestowed to members for thoughtful reporting, thorough coverage and strong storytelling. AAJA also honors members and organizations who champion the spirit of community through their chapter and affinity group leadership; their diversity, equity, and inclusion work; and through their life's work. To learn more about awards, visit our awards website.
PAST AWARDS NEWS:

The Asian American Journalists Association is proud to announce the winners of our 2023 Community Awards, which honor members and organizations championing the spirit of community through their leadership, mentoring,
Read More »

Submit your work produced last year by FEBRUARY 28 The Asian American Journalists Association's 2023 Journalism Excellence Awards are open for submissions. These awards will honor the best of journalism pieces
Read More »

Apply for the chance to have your work honored by AAJA The Asian American Journalists Association is proud to announce the return of our Awards Program, after they underwent
Read More »