Congratulations to Aryanna Prasad, Nathan HaN, Amna Subhan and ANISH VASUDEVAN
The Asian American Journalists Association's Sports Task Force is proud to announce the recipients of the 2022 scholarships and fellowships. Aryanna Prasad received the Michael Kim Broadcast Fellowship, Nathan Han and Amna Subhan received the Jimmie and Suey Fong Yee Grants and Anish Vasudevan received the Al Young Sports Journalism Scholarship. Read on to learn more about our winners. Congratulations!
2022 Michael Kim Broadcast Fellowship
The Asian American Journalists Association's Sports Task Force is proud to announce Aryanna Prasad as the recipient of the 2022 Michael Kim Broadcast Journalism Fellowship.
Prasad, a graduate of Louisiana State University, is the second recipient of the $2,000 grant, which is intended to support an early career sports broadcast journalist.
"Aryanna's passion and dedication was visible across her application," STF chairman Josh Tolentino said. "Michael Kim created opportunities for so many of us, and Aryanna has made it clear she embodies AAJA STF's mission of ensuring there's equal and fair AAPI representation in all newsrooms."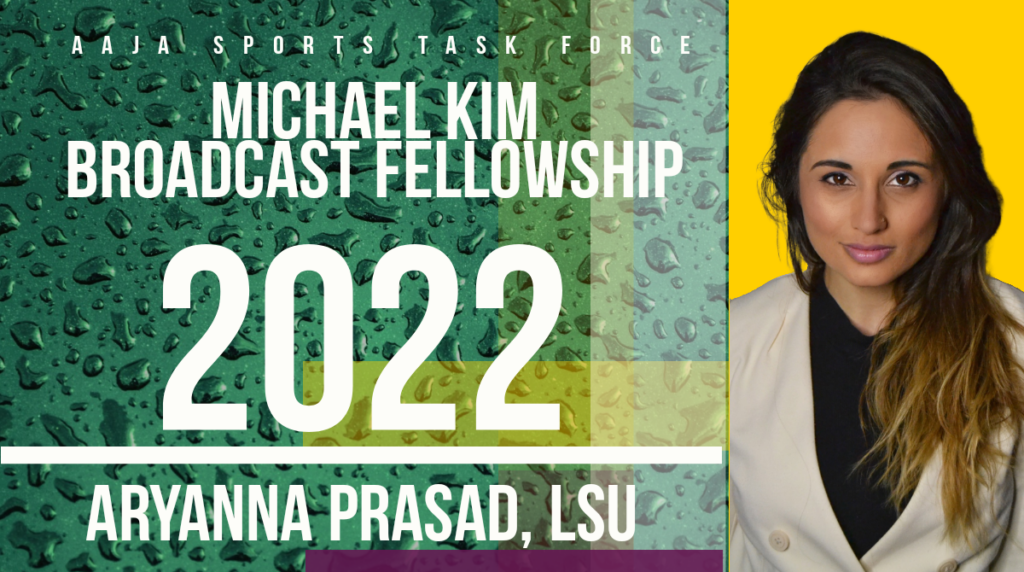 When Prasad first came across the fellowship, she recommended young journalists apply, suggesting it would be a good opportunity for them to advance their careers. Prasad soon realized she was eligible herself, having redirected her career to sports media during the pandemic.
"It's a blessing, and it's really inspiring," said Prasad on receiving the fellowship. "I saw myself as a non-traditional applicant…[but] I still have so much to learn, and I could learn from someone like Michael Kim."
Kim is a groundbreaking sports anchor who opened doors for the Asian community at the Worldwide Leader. Kim served as an anchor at ESPN's SportsCenter for 17 years and was one of the original anchors who helped launch ESPNNews. Now working at Stadium on Marquee Sports Network, Kim has been a proud member of AAJA for decades and is a Sports Task Force legend who has supported the group from its inception.
"Aryanna's perseverance and determination are precisely the qualities that this fellowship is set up to reward and support," said Kim, a founding STF board member. "How can you not be moved and inspired by her story? Congratulations Aryanna!"
Prasad, an Associate Editor at Fansided, said she plans to use the scholarship funds to invest in camera equipment and further her broadcast career. She studied political communications and international studies at LSU. Prasad is also an alumnus of AAJA's distinguished VOICES program.
Her passions include reporting on the intersection between sports, politics and culture. Women's representation and opportunity in sports media are issues Prasad cares about deeply.
"There are always these moments in sports where it can feel isolating to be an Asian American woman," Prasad said. "And now I will always have this to say, that someone supports me and believes in me and the stories that I'm telling."
2022 Jimmie and Suey Fong Yee Fellowship
The Asian American Journalists Association's Sports Task Force is pleased to announce Amna Subhan and Nathan Han as the recipients of the 2022 Jimmie & Suey Fong Yee Fellowship, generously funded by prominent sports agent Don Yee.
The $2,000 grants will go toward registration for the 2022 AAJA national convention, which is scheduled to be held this summer in Los Angeles, and also fund expenses associated with reporting a story about Asians or Asian Americans in sports that the two recipients pitched as part of their applications. Han and Subhan are the 12th and 13th overall recipients of the fellowship. 
"Amna and Nathan emerged from a strong pool of applicants," STF chairman Josh Tolentino said. "The Sports Task Force is so grateful for Don Yee's support of diversity in sports journalism. His contributions will help Amna and Nathan take further steps in accomplishing their dreams and goals."
Subhan is a senior studying sports journalism at Arizona State University. She grew up in a small town in Arizona and struggled to find her place as a Pakistani-American, but found a sense of belonging in sports, and is dedicated to cementing a place for South Asian women in the industry, she said.
Subhan currently works for NCAA Digital with Turner Sports' editorial team. This upcoming summer, she's set to intern with Sports Illustrated as an Association for Women in Sports Media scholarship recipient. 
Through the Jimmie & Suey Fong Yee Fellowship, Subhan will collaborate with AAJA to produce a story on the growth of women's cricket breaking cultural barriers in South Asia. 
Han is a junior studying journalism and social work at the University of Texas at Austin. Born and raised in Dallas, he found his passion for sports journalism as an intern for the Dallas Morning News. Han covers football, basketball and baseball for the Daily Texan, the student newspaper at UT, and is the president of the AAJA-UT student chapter. 
Han's story pitch for the Jimmie & Suey Fong Yee Fellowship revolves around the role ping-pong has played in the lives of many Chinese immigrants and Asian Americans by looking back at the history of ping-pong in China and ping-pong diplomacy.
Subhan and Han are both members of the distinguished Sports Journalism Institute, whose mission is to increase diversity in the nation's sports media. As a 2021 graduate of SJI, Subhan interned with the Southern California Newsgroup covering the Los Angeles Sparks for 11 different newspapers around the area including the Orange County Register and LA Daily News. Upon completion of his spring semester, Han will intern at the Kansas City Star, as part of this year's SJI class.
Over the course of a distinguished 34-year career, Yee has represented many of the country's most accomplished football players and coaches, as well as athletes from a wide range of Olympic and action sports. His clientele includes Tom Brady, Jimmy Garappolo, Julian Edelman and Sean Payton. Yee, who also founded HUB Football, is a longtime supporter of AAJA's Sports Task Force; this year, he generously doubled his contribution for the Fellowship, which is named in honor of Yee's parents.
Yee said he was very impressed by Subhan and Han's background and story pitches.
"The sports world now is much more globally connected, and I want to do what I can to provide more opportunity to a wider range of storytellers that may bring a more global perspective," Yee said. "The worldwide Asian population is enormous, and there are so many undiscovered stories that would be exciting to hear."
2022 Al Young Sports Journalism Scholarship
The Asian American Journalists Association's Sports Task Force is proud to announce Anish Vasudevan as the recipient of the 2022 Al Young Sports Journalism Scholarship.
Vasudevan is a sophomore at Syracuse University pursuing a Magazine, News & Digital Journalism major. He is the seventh winner of this award, second consecutive sophomore and second journalism student from Syracuse, following the footsteps of his friend, Roshan Fernandez (2020).
The 19-year-old Indian American serves as the assistant sports editor at The Daily Orange student-run newspaper and beat writer for Syracuse's storied lacrosse program.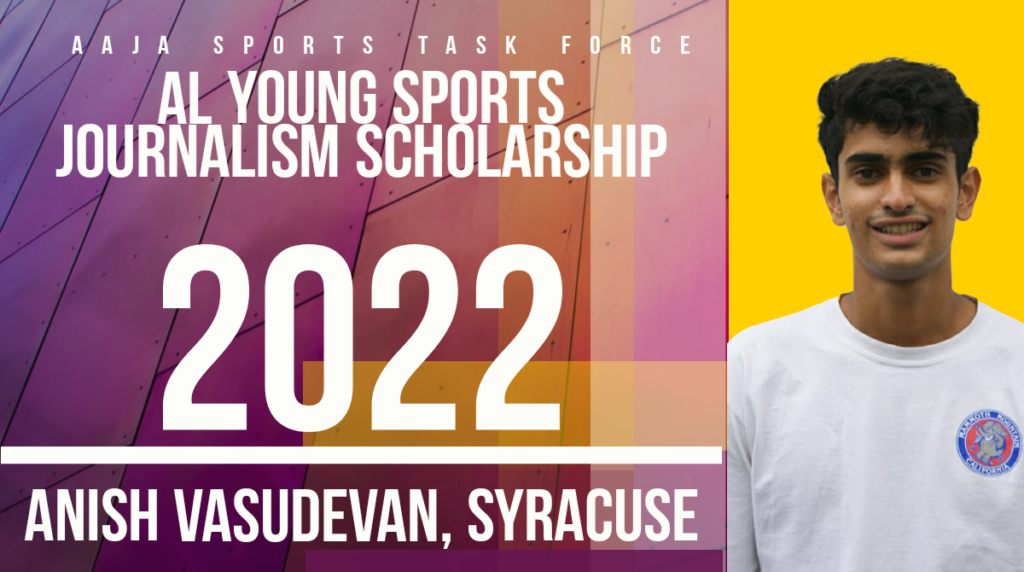 Vasudevan, a second-time applicant, was shocked when he received the news of winning the Al Young Sports Journalism Scholarship.
"I was walking in a snowstorm when I got a call," Vasudevan said. "It was Al and I was just in disbelief. It's amazing knowing of his status and how he has paved the way. The fact he took the time to read my story and just receiving his recognition is amazing."
The Al Young Scholarship celebrates the nation's first Asian American sportswriter at a metro daily newspaper who also blazed a trail as the first to cover the NFL as a beat writer and first to write a weekly column focused on women's sports. During his four-decade career, Young was a writer and editor at several publications, including the Boston Globe, USA Today and the New York Daily News, before retiring in 2012.
"Besides his writing skills," said Young, a founding member of AAJA's Sports Task Force, "what impressed me was the epiphany Anish related in his essay about writing the story on Syracuse football player Ahmad Masood, one of the school's rare Asian American athletes of similar South Asian descent and background as himself."
Vasudevan said his goal was to give Masood a voice to represent his Pakistani heritage at a campus where Asian American students make up less than 7% of the school's population. The statistic came as a culture shock to Vasudevan, who graduated from Monte Vista High School in Cupterino, CA that had a 90% Asian student body, including 50% Indian American.
Vasudevan further saw that lack of diversity while covering games at the Carrier Dome at Syracuse, and while shadowing a reporter at San Francisco 49ers training camp.
"Anish realized then that his role and mission moving forward as a journalist of color was to use his platform, in newsrooms that often lack diversity, to provide vital insight necessary to highlight story of minority athletes," Young said.
"Hopefully winning this scholarship will help Anish move another step closer to his sports career goals."
Vasudevan said he's fired up to receive the scholarship and aspires to start a pop culture magazine for Syracuse. After graduation, he dreams of writing "the weirdest and most creative leads" for an outlet such as The Ringer, marrying his passions for sports and pop culture.
"I'm grateful for everything," said Vasudevan. "I've had a lot of people help me along the way. Getting recognition from somebody with Al's stature is amazing. You wouldn't be able to tell me in ninth grade that I would get something like this. I can't be more thankful and grateful."